Spanish Pulled Pork with Romesco and Scallions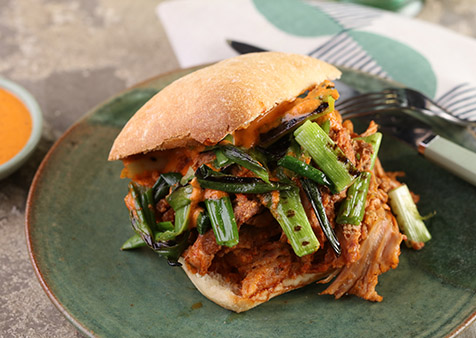 Ingredients
2 bunches scallions
2 Tbsp olive oil
1 lb Curly's by Smithfield® Smoked Pulled Pork
4 ciabatta sandwich squares
Romesco Sauce:
½ cup + 2 Tbsp olive oil, divided
4 oz whole almonds
½ lb roasted red peppers
2 ounces sherry vinegar
Salt, to taste
Details
Product:
Pulled Pork
Meal Course:
Lunch
Dish Type:
Sandwich
Preparation
Trim tops and root bottoms from scallions. Slice in half, separating white and green portion. Toss them in 2 tablespoons olive oil and salt.
Place on preheated grill until tender and well browned. Set aside.
For Romesco Sauce, toss almonds with 2 tablespoons olive oil and salt. Toast in a 350°F oven for approximately 10 minutes, shaking frequently.
Place almonds inside blender with roasted red peppers and sherry vinegar. Blend slowly, drizzling in ½ cup olive oil while blender is running. Add salt.
Reserve ½ cup Romesco Sauce, and toss pulled pork with remaining sauce. Place in pot or baking dish, and heat in a 350°F oven until pork is heated through.
To assemble, slice ciabatta squares in half lengthwise, and toast. Place one-fourth of pork on each square, and top each with one-fourth of grilled scallions.
Divide reserved sauce among sandwiches as final layer before placing top on sandwich.
To order, contact your Smithfield Culinary sales representative, call 888-326-7526 or contact us for more information.
Email Recipe