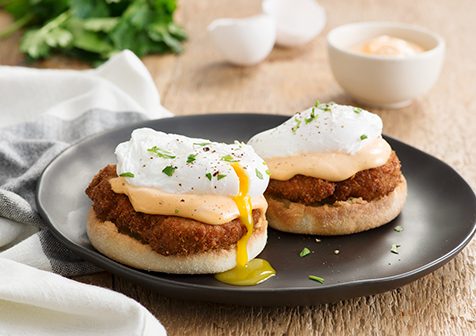 Ingredients
2 English muffins, split
2 eggs
1/2 cup Italian style bread crumbs
1/4 cup milk
1 pinch garlic salt
2 tsp. dried oregano
1 Tbsp. vegetable oil
Salt and pepper to taste
4 eggs, poached
Sriracha aioli
Chef Frank Benedict
Details
Product:
Pork Tenderloin
Meal Course:
Breakfast
Dish Type:
Entrée
Preparation
Slice tenderloin into equal sized rounds. Place rounds between sheets of plastic wrap and pound until thin.
Preheat oven to 325°F.
Beat two eggs and milk together and pour into a bowl.
In a separate bowl combine bread crumbs with garlic salt, oregano, salt and pepper.
Heat oil in a skillet over medium high heat.
Dip tenderloins in egg mixture, then coat with bread crumbs.
Once oil is hot add coated tenderloins to skillet and fry until cooked through.
Place split English muffin next to one another on a plate, top with tenderloin, followed by Sriracha aioli. Repeat for second plate.
To order, contact your Smithfield Culinary sales representative, call 888-326-7526 or contact us for more information.
Email Recipe