Texas Smoked Porchetta with Charred Sweet Potatoes & Roasted Grapes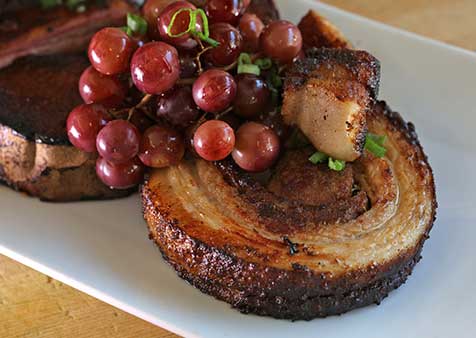 Ingredients
1 Pork Belly, skinless
2 lb. Italian sausage, removed from casing
Salt and pepper, to taste
1 Tbsp. oregano
4 oz. Texas Pork Rub (recipe to follow)
Colonel Mustard Sauce (recipe to follow)
Charred Sweet Potatoes (recipe to follow)
Roasted Grapes (recipe to follow)
Texas Pork Rub:
4 cups dark brown sugar
1 cup ancho powder
1 cup chipotle powder
1 cup Mexican oregano
1 cup cumin powder, toasted
1 cup ground black pepper
1/2 cup onion powder
1/2 cup garlic powder
Colonel Mustard Sauce:
16 oz. white vinegar
1/2 Tbsp. ground black pepper
1/2 Tbsp. kosher salt
4 oz. sugar
1/2 Tbsp. red chili flakes
1/2 Tbsp. chipotle powder
8 oz. dark brown sugar
20 oz. yellow mustard
2 oz. ketchup
Charred Sweet Potatoes:
5 sweet potatoes
4 oz. olive oil
2 Tbsp. salt and pepper
2 cups dark brown sugar
Roasted Grapes:
4 clusters red grapes
1 oz. olive oil
1 Tbsp. salt
1 Tbsp. pepper
Details
Product:
Italian Sausage, Pork Belly
Meal Course:
Dinner, Lunch
Dish Type:
Entrée
Preparation
Cut pork belly in half and pound 1-inch thick.
Divide sausage between two pork belly sections and spread sausage out over pork bellies.
Roll pork bellies back up with sausage, creating a pinwheel appearance. Tie roasts.
Mix salt, pepper and oregano to make a rub and then generously season tied porchettas.
Sear porchettas on flat top or in large sauté pan (sear to a rich brown).
Place in 220°F to 250°F smoker for 5 to 6 hours until internal temperature is 190°F. Slice when cool and reserve for service.
Serve with Colonel Mustard Sauce.
Texas Pork Rub:
Combine and cover.
Colonel Mustard Sauce:
Combine all ingredients except yellow mustard and ketchup.
Place in medium pan on medium heat, bring to simmer and turn burner off.
Add mustard and ketchup and allow to cool.
Charred Sweet Potatoes:
Wash and toss sweet potatoes in olive oil salt and pepper.
Place in 400°F oven until fully cooked and very tender.
Place in cooler and cool to harden a bit.
Slice into medallions, leaving skins on, and set aside.
On a flat top or cast iron skillet coat potatoes' surface with dark brown sugar.
Caramelize dark, repeat on the other side and serve right away.
Roasted Grapes:
Leaving grapes on the vine, wash and dress them with oil and season with salt and pepper.
Place in 400°F oven for 5 to 8 minutes until grapes are soft and darken.
Serve right away.
To order, contact your Smithfield Culinary sales representative, call 888-326-7526 or contact us for more information.
Email Recipe