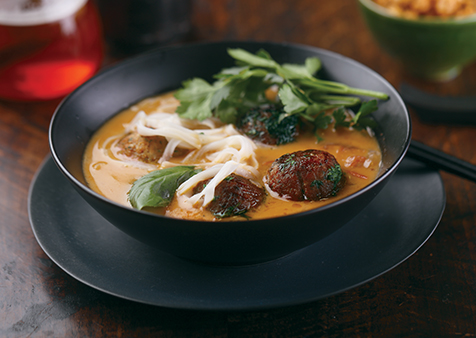 Ingredients
Ingredients:
4 stalks lemongrass
2-4 Thai chilis
6 cloves garlic
2 Tbsp galangal (substitute ginger)
2 Tbsp coconut oil
10 cups vegetable broth
2 vine-ripe tomatoes, chopped
2 cups coconut milk
1 bunch cilantro
2 Tbsp soy sauce
14 oz Smithfield™ Meatballs
12 oz shiitake mushrooms
½ cup lime juice
2 Tbsp agave
Salt and pepper, to taste
1 lb flat rice noodles
½ bunch cilantro
1 bunch Thai basil
Details
Meal Course:
Dinner, Lunch
Dish Type:
Soup/Salad
Preparation
Cut ends off lemongrass, and crush with back of knife. Set aside.
Add chili peppers, garlic and galangal (or ginger) to mortar and pestle, grind into a paste, and set aside.
Melt coconut oil in large pot over medium heat. Once oil begins to shimmer, add lemongrass and cook for 3-4 minutes, until fragrant. Add chili pepper paste, and cook for another 3-4 minutes, until fragrant.
Add vegetable broth, tomato, coconut milk, cilantro and soy sauce, and stir to combine. Bring to boil. Cover, reduce heat to low, and simmer for 20 minutes, until broth has reduced slightly.
Add meatballs and mushrooms, and stir to combine; cook for 5 minutes, until mushrooms are tender.
Add lime juice and agave, and stir to combine. Season.
In separate pot, cook rice noodles, and drain. Portion noodles into 4 bowls, and then pour finished broth over top, making sure to spoon out some vegetables.
Garnish with fresh cilantro and Thai basil, and serve immediately.
To order, contact your Smithfield Culinary sales representative, call 888-326-7526 or contact us for more information.
Email Recipe