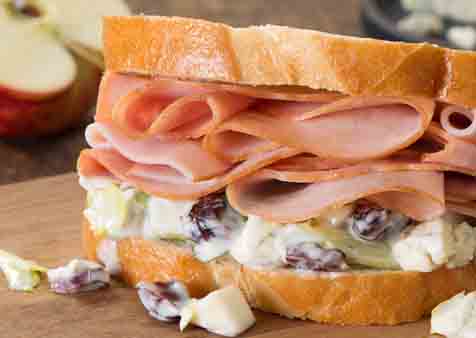 Ingredients
6 medium red-skinned apples, diced
1/4 cup lemon juice
1 lb. chopped celery with leaves
8 oz. dried cranberries
4 oz. crumbled blue cheese
4 oz. walnut pieces
6 tablespoons fat free mayonnaise
3 lb. Farmland by Smithfield® Lower Sodium Smoked Ham, thinly sliced*
48 slices thin-sliced Italian bread
Details
Product:
Ham
Meal Course:
Lunch, School Foodservice
Dish Type:
Entrée, Sandwich
Preparation
Stir together apples with lemon juice in medium bowl. Add celery, cranberries, blue cheese, walnuts and mayonnaise; toss to mix.
Spoon 1/2 cup salad onto slice of bread. Top with 2 oz. ham and top layer of bread. Repeat to make remaining sandwiches.
NUTRITIONAL INFORMATION
Per serving: Calories 245, Fat 8g (Sat Fat1g), Cholesterol 34mg, Sodium 554mg, Carbohydrate 32g, Protein 12g
To order, contact your Smithfield Culinary sales representative, call 888-326-7526 or contact us for more information.
Email Recipe