Why stop at lunch and dinner?
Craving smoky goodness is an all-day affair for many BBQ lovers.
Smoke-infused applications are showing up all over menus, from breakfast to late night. With people craving more protein throughout the day, smoke, with a distinctive flavor profile is a perfect addition to expand menu appeal in every daypart.
Smithfield Culinary offers you the products and insights you need to add a variety of smoked items to your menu. For more information, contact your Smithfield Culinary representative or call 888-327-6526.
Breakfast Sandwiches1
Sandwiches, a growing breakfast favorite, represent an application that is very easy to enhance with smoke.
Some meats to add as an ingredient include: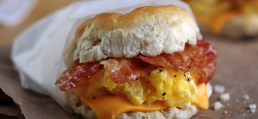 Bacon:
On 71% of U.S. menus,
with a 3% 4-year growth.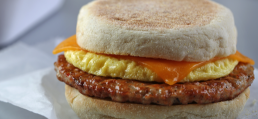 Sausage:
On 59.9% of U.S. menus.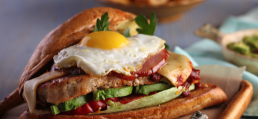 Ham:
On 51% of U.S. menus.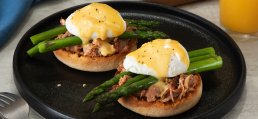 Pulled Pork:
On 19.6% of U.S. menus,
with a 4.6% 4-year growth.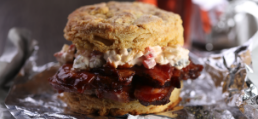 Brisket:
On 12.7% of U.S. menus,
with a 23.3% 4-year growth.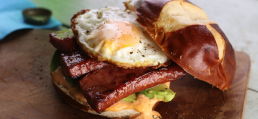 Smoked Sausage:
On 3% of U.S. menus,
with a 25.8% 4-year growth.
Skillets2
Skillets typically include meat. Elevate your skillets and more with smoked meats.

Skillets:
On 8.3% of U.S. menus, with a 17.2% 4-year growth
Starters, Small Plates and Sides3

Customers are demanding that more unique and bolder flavors and ingredients be added to their small plates and appetizers,
and smoke fits the bill perfectly. Shareables also allow for consumers
to try new things without the risk of ordering a full entrée.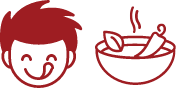 38% of customers...
are more willing to try a new flavor or ingredient than in an appetizer than an entrée.
Finally, when they snack, consumers prefer savory tastes, which can and should include protein.
Pairing Unique Ingredients with Smoke
Add intrigue by pairing smoky meats with unique ingredients that are surprising and not often used together.
Some examples from some of the top chefs include:






1-2 Datassential
3 Technomic, Consumer Trend Report, 2019, and Snacking Consumer Trend Report ,2019