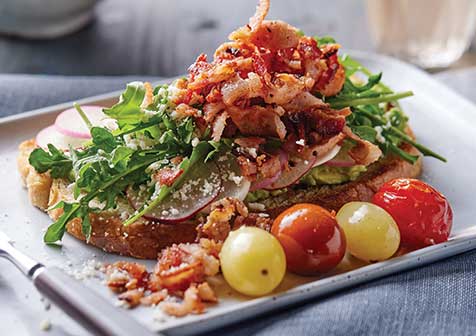 Ingredients
1 lb heirloom cherry tomatoes
1 garlic clove, minced
1 Tbsp oil
1 Tbsp balsamic vinegar
Salt and pepper, as needed
8 slices Smithfield Applewood Smoked Bacon
4 large slices sourdough bread
2 ripe avocados
4 oz thinly sliced watermelon radish
4 oz arugula
Details
Product:
Bacon
Meal Course:
Dinner, Lunch
Dish Type:
Appetizer, Entrée
Preparation
 Preheat oven to 400°F.
Toss cherry tomatoes with garlic, oil, balsamic vinegar and pinch of salt and pepper.
Roast 10-15 minutes, just until tomatoes pop.
Cook bacon in sauté pan on medium heat until crispy. Drain bacon (reserve bacon grease), and set it aside.
Brush sourdough bread with bacon grease, and toast both sides of bread in pan; set aside.
Cut avocados in half, and remove pit and skin. Mash avocados with fork, and season with salt and pepper.
To assemble, place sourdough toast on each plate, top with avocado mixture, watermelon radishes, arugula, roasted tomatoes and Cotija cheese, and finish with crumbled bacon.
To order, contact your Smithfield Culinary sales representative, call 888-326-7526 or contact us for more information.
Email Recipe