Bacon, Egg and Puffed Pastry Strata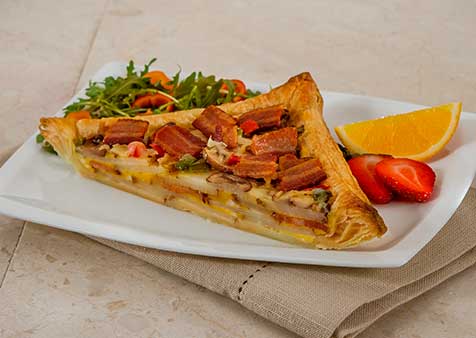 Ingredients
1 ea. puffed pastry, rectangle (8″ x 4″)
1/2 cup Idaho potatoes, cooked, sliced (1/4″ thickness)
1/3 cup 14/18 Single Slice Cherrywood Bacon, cooked and cut into 1/4-inch pieces
1 cup eggs, beaten, seasoned
2 Tbsp. Portabello mushrooms, sauteed
1/2 cup Gruyere cheese, shredded
2 Tbsp. heavy cream
4 ea. red and green bell peppers, super fine dice (2 of each color)
Salt, to taste
White pepper, to taste
Details
Product:
Bacon
Meal Course:
Breakfast
Dish Type:
Entrée
Preparation
Line a 1/4 sheet pan with parchment paper and lay puffed pastry shell up against the edge, folding ends to create a crust – poke holes along bottom and prebake crust for 4 to 5 minutes at 350°F.
Layer sliced cooked potatoes along bottom of pastry crust.
In a separate bowl, combine eggs and add sautéed mushrooms. Pour egg mixture onto puff pastry crust and top with 1 cup shredded Gruyere cheese.
Layer on pieces of cooked bacon.
Brush edges with whole milk to create a nice sheen.
Bake at 350°F for 15 – 20 minutes, until the cheese begins to bubble and the crust is cooked through.
Garnish with red and green bell peppers and a side of orange slices and strawberries.
Prep Time: 25 min.
Cook Time: 20 min.
To order, contact your Smithfield Culinary sales representative, call 888-326-7526 or contact us for more information.
Email Recipe