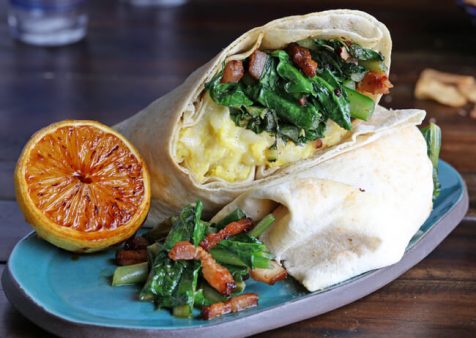 Ingredients
1 lemon
1 tsp. granulated sugar
4 slices uncured Bacon, cut into 1-inch pieces
1 clove garlic, shaved
2 cups chopped dandelion greens, loosely packed
Salt and pepper, to taste
1 Tbsp. extra virgin olive oil
3 whole eggs slightly beaten
2 oz. Graviera cheese, shredded
1 large pocket pita
Details
Bacon brands offered: Armour by Smithfield, Patrick Cudahy, John Morrell, Farmland, Smithfield Culinary Log Smoked Bacon
Product:
Bacon
Meal Course:
Breakfast
Dish Type:
Entrée, Sandwich
Preparation
Cut lemon in half and reserve half for later.
Spread sugar evenly on lemon half.
Brulé with torch, or heat sauté pan over high heat, and when pan is extremely hot, add lemon sugar-side down and caramelize for 10 to 15 seconds.
Remove lemon from pan and reserve to serve alongside pita.
In separate sauté pan over medium heat, render bacon until slightly crispy.
Add garlic and sweat for 15 to 20 seconds over medium heat.
Add dandelion greens and cook until they just begin to wilt.
Add juice from other half of lemon to greens and season with salt and pepper.
In separate pan over medium heat, begin cooking eggs in extra virgin olive oil.
Season with salt and pepper.
When eggs are almost finished, remove from heat and fold in Graviera cheese.
Warm pita in oven slightly until it's soft.
Open pita pocket, add eggs, and then sautéed dandelion greens and bacon.
Wrap pita.
Cut in half and serve on plate with caramelized lemon.
To order, contact your Smithfield Culinary sales representative, call 888-326-7526 or contact us for more information.
Email Recipe