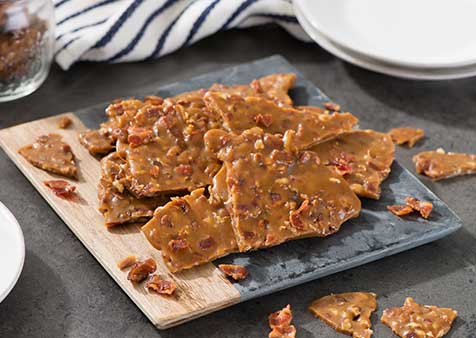 Ingredients
16 oz. Smithfield Bacon, cooked crisp and chopped
1/2 cup pecans, chopped
1/2 cup butter
3/4 cup brown sugar
1/2 cup white sugar
3 Tbsp. corn syrup
2 Tbsp. water
1 tsp. vanilla extract
1/4 tsp. baking soda
Details
Product:
Bacon
Meal Course:
Breakfast, Dinner, Lunch
Dish Type:
Dessert
Preparation
Combine bacon and pecans; set aside.
Line baking sheet with parchment paper or coat with margarine.
Place butter in medium saucepan with tall sides; melt over medium-high heat. Stir in sugars, corn syrup and water; bring to a boil, stirring constantly. Attach candy thermometer to side of the saucepan, without touching bottom of pan. Without stirring, boil mixture until temperature reaches 295°F.
Remove pan from heat; stir in vanilla, baking soda, and bacon-pecan mixture. Quickly pour candy onto baking sheet, spreading to make thin. Cool completely before breaking into pieces to serve.
To order, contact your Smithfield Culinary sales representative, call 888-326-7526 or contact us for more information.
Email Recipe