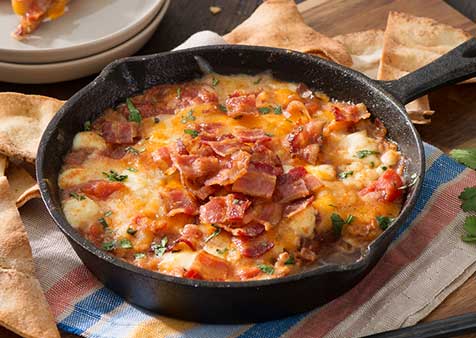 Ingredients
1/4 cup Queso fresco
1/4 cup Mozzarella, sharp
1/4 cup Cheddar, sharp
4 oz. Tecate
1/4 cup Tomato, stewed
4 Tbsp. 14/18 Single Slice Cherrywood Bacon, chopped
4 Tbsp. Red onion, diced
1 tsp. Sea salt
2 tsp. Cilantro, chopped
Details
Product:
Bacon
Meal Course:
Dinner, Lunch
Dish Type:
Appetizer
Preparation
Over a double boiler, melt cheese together with beer.
In a small cast iron skillet, add tomato, onion and bacon; pour melted queso mixture over top of tomatoes.
Bake at 350°F for 8-10 minutes.
Garnish with sea salt and cilantro.
Serve hot with pita or tortilla chips.
Prep Time: 5 min.
Cook Time: 20 min.
To order, contact your Smithfield Culinary sales representative, call 888-326-7526 or contact us for more information.
Email Recipe