Bacon Waffles with Maple Sausage Gravy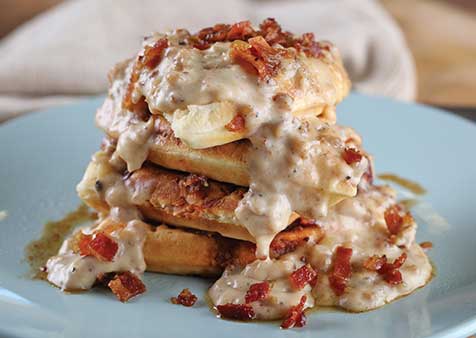 Ingredients
Waffle Batter:
2 cups all-purpose flour
1 Tbsp baking powder
2 eggs
1 oz melted butter
1 oz bacon fat
1 3/4 cups milk
1 Tbsp apple cider vinegar
2 tsp vanilla extract
1 lb Smithfield Bacon, cooked and chopped
Maple Sausage Gravy:
6 oz Smithfield Breakfast Sausage
1/2 cup yellow onion, small diced
3 Tbsp all-purpose flour
1/2 tsp black pepper, ground
12 oz milk, cold
2 oz maple syrup
Bacon Jam:
1/2 lb Smithfield Bacon, chopped
1 shallot, minced
2 oz maple syrup
1 Tbsp Worcestershire
1 Tbsp apple cider vinegar
1/2 tsp black pepper
Details
Product:
Bacon, Breakfast Sausage
Meal Course:
Breakfast
Dish Type:
Appetizer
Preparation
For Waffle Batter, combine all dry ingredients and wet ingredients separately. Then combine wet and dry together, and whisk until well combined. Place batter in refrigerator until ready to use.
Turn on waffle iron to preheat. Pour waffle batter into waffle iron, and add 2 Tbsp chopped bacon on top of batter.
Plate waffles, placing Bacon Jam between each waffle, and serve Maple Sausage Gravy on the side.
For Maple Sausage Gravy, heat medium-size saucepan to medium heat, and add sausage. Cook until sausage is brown. Continue to break down sausage into small pieces while cooking.
Add yellow onions, and sauté until translucent. Add flour and black pepper to sausage and onions to make roux. Continue to stir flour and fat together until roux is pulling from sides.
Slowly add cold milk while whisking continuously. Let simmer on low for 30 minutes until texture of flour has changed. Add maple syrup and season with salt. Remove from heat and keep warm.
For Bacon Jam, Add bacon to small pot over medium-high heat. Once fat from bacon has rendered, add minced shallots.
Sauté shallots until translucent, and add remaining ingredients. Let simmer for 5 minutes, remove from heat, and keep warm.
To order, contact your Smithfield Culinary sales representative, call 888-326-7526 or contact us for more information.
Email Recipe