Banana Bacon French Toast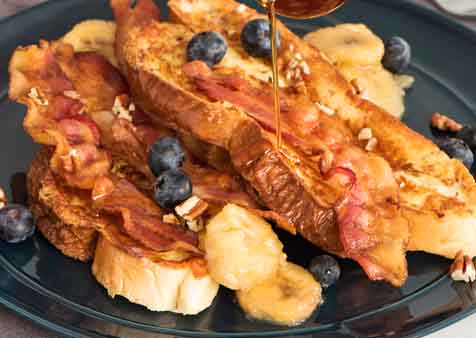 Ingredients
1 ea. large egg, beaten
1 cup milk
1 tsp. vanilla extract
1/2 tsp. cinnamon, ground
1/2 tsp. salt
2 slices Brioche or challah bread, 1" thick sliced
2 Tbsp butter, unsalted
1/2 cup banana, peeled, sliced
1 cup maple syrup
3 slices 18/22 Single Slice Applewood Bacon, cooked
1 Tbsp. pecans, crushed
2 Tbsp. fresh mixed berries (or berry of choice)
Details
Product:
Bacon
Meal Course:
Breakfast
Dish Type:
Entrée
Preparation
In a large bowl, combine beaten eggs, milk, vanilla extract, cinnamon, and salt, mix well. Submerge sliced bread into egg batter and allow it to soak up the mixture for 2 minutes.
In a medium sauté pan, over medium high heat, melt 1 tablespoon of unsalted butter. Add sliced bananas and sauté until lightly browned, approximately 3 minutes. Add maple syrup and simmer for 1 minute. Remove from heat.
In a large sauté pan, add remaining tablespoon of unsalted butter and melt over medium high heat. Add coated bread and sauté each side until golden brown. Cook through for 2 minutes on each side.
To build, layer one slice of toast with sautéed bananas and 3 slices of bacon. Place remaining slice of toast on top followed by a sprinkle of toasted pecans and mixed berries.
Prep Time: 15 min.
Cook Time: 10 min.
To order, contact your Smithfield Culinary sales representative, call 888-326-7526 or contact us for more information.
Email Recipe