Blackened Pork Chops with Creamed Corn & Rosemary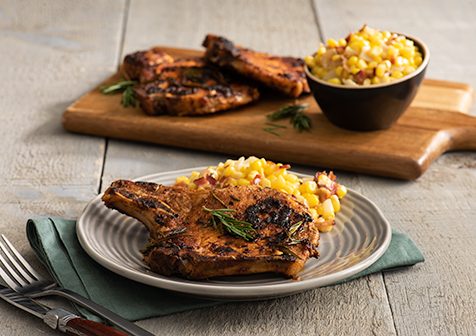 Ingredients
2 Tbsp. paprika
1 Tbsp. garlic powder
1 Tbsp. onion powder
1 tsp. ground black pepper
1 tsp cayenne pepper
2 Tbsp. salt
2 Tbsp. grapeseed oil
1 Tbsp. fresh rosemary leaves
4 cups frozen corn (use fresh if in season)
4 slices bacon, diced
1 Tbsp. butter
1 yellow onion, diced
1/2 cup cream
2 teaspoon sugar
salt and pepper to taste
Details
Product:
Pork Chops
Meal Course:
Dinner
Dish Type:
Entrée
Preparation
Creamed Corn
In a medium sauce pot on medium heat, render bacon until crispy, then remove with slotted spoon onto a paper towel-lined plate. Reserve bacon fat in pan.
Add yellow onion to bacon fat and cook until translucent, approximately 5 minutes.
Add remaining ingredients, bring to a simmer and cook until cream is thickened and corn is warmed through.
Bone-In Pork Chops
Pre-heat oven to 350° F.
Combine paprika, garlic powder, onion powder, black pepper, cayenne and salt and mix thoroughly to combine.
Coat pork chops evenly with this blackening seasoning on both sides.
In a heavy bottomed sauté pan, heat grape seed oil over high heat. Add pork chops and cook for approximately 4 minutes. Flip and place in pre-heated oven.
Cook for 8-10 minutes or until the internal temperature reaches 145°F. Add rosemary to the pan and allow to warm briefly. The residual heat from the pan will crisp the rosemary leaves. Use a spoon to baste the pork chops with the rosemary oil.
To order, contact your Smithfield Culinary sales representative, call 888-326-7526 or contact us for more information.
Email Recipe