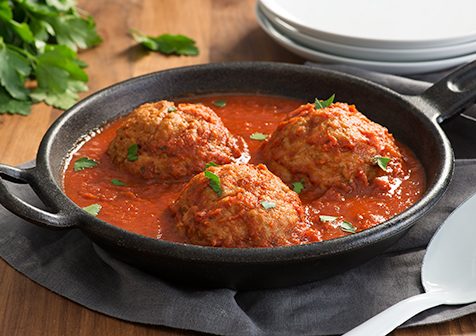 Ingredients
1-1/2 Tbsp. olive oil
1-1/2 Tbsp. garlic
1-1/2 cups onion
1-1/2 Tbsp. Italian seasoning
1/4 cup tomato paste
1/2 cup red wine
2 cups white bread, cubed
3/4 cup milk
2 lb Ground Pork
To taste Salt
To taste Pepper
3 ea. eggs
2 cups tomato Sauce
Details
Product:
Ground Pork
Meal Course:
Dinner, Lunch
Dish Type:
Entrée
Preparation
Heat oven to 500°F.
In medium sauté pan, over medium/low heat, sauté garlic, onion, and Italian seasoning in oil for 5-8 minutes or until onions become translucent.
Stir in tomato paste and cook for 2-3 minutes. Deglaze pan with red wine. Remove from heat and allow to cool.
In a separate large bowl, combine cubed bread and milk.
Add cooled tomato and vegetable mixture, ground pork, salt, pepper, and eggs to the bread and milk bowl. Mix until thoroughly combined; take care to not over mix.
Form into meatball (softball size – 8-oz.)
In a medium cast iron skillet or a 9 x 9 hotel pan, add tomato sauce and formed meatballs.
Bake uncovered in preheated oven for 25 minutes.
Cover with aluminum foil and bake for an additional 10 minutes or until the meatballs reach an internal temperature of 145°F.
Prep Time: 10 min.
Cook Time: 45 min.
To order, contact your Smithfield Culinary sales representative, call 888-326-7526 or contact us for more information.
Email Recipe