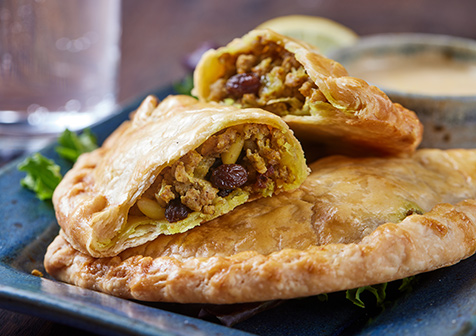 Ingredients
Filling and Crust
1 lb Smithfield Ground Pork

6 Pillsbury® 6¾" Round Frozen Pie Dough (or housemade pie crust)

½ onion, diced

1 tsp salt

1 tsp pepper

1 tsp turmeric

1 tsp cumin

½ tsp cinnamon

½ tsp allspice

¼ cup raisins

1⁄3

cup shredded Manchego

1⁄8

cup toasted pine nuts
Lemon-Honey Dipping Sauce
½ cup mayonnaise or aioli

2 tsp lemon juice

2 tsp honey

Zest from 1 lemon

Salt and pepper, to taste
Details
Product:
Ground Pork
Meal Course:
Dinner, Lunch
Dish Type:
Appetizer, Sandwich
Preparation
Filling and Crust
Preheat oven to 375℉.

Remove pie crusts from freezer.

Brown ground pork with onions, and add seasonings, spices and raisins. Let mixture cook until pork is fully cooked, about 10 minutes.

Remove from heat, and stir in Manchego and pine nuts.

Divide mixture evenly between pie crusts in center of each crust.
Wet edges with water. Fold crust over in half. (Dough has been washed, so no need for egg wash.)

Bake at 375℉ until empanadas are golden brown, about 20 minutes.
Lemon Honey Dipping Sauce Preparation
Combine all ingredients, and serve on the side along with a side salad.
To order, contact your Smithfield Culinary sales representative, call 888-326-7526 or contact us for more information.
Email Recipe