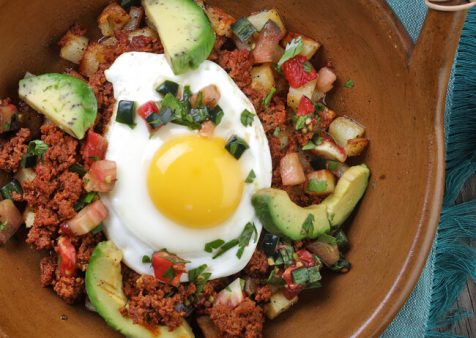 Ingredients
1 lb. Ground Pork
Chorizo Seasoning
Pico de Gallo
4 cups hash browns, cooked
4 eggs, sunny-side up
Chorizo Seasoning
2 cup white vinegar
2 Tbsp. paprika
2 Tbsp. chili powder
1 Tbsp. sea salt
1 tsp. granulated garlic
½ tsp. ground oregano
¼ tsp. ground cumin
¼ tsp. ground coriander
Pico de Gallo
¾ pound tomatoes, seeded and finely diced
¼ cup cilantro, chopped
¼ cup white onion, finely chopped
¼ small jalapeno, seeds removed and finely diced
¼ tablespoon freshly squeezed lime juice
Sea salt to taste
1 fresh avocado, sliced
4 cups hash browns, prepared
4 eggs, sunny-side up
Details
Ground Pork brands offered: Farmland
Product:
Ground Pork
Meal Course:
Breakfast
Dish Type:
Entrée
Preparation
Add Chorizo Seasoning to ground pork, cover and refrigerate 24 hours.
Heat medium pan over medium-high heat. Cook ground pork, stirring occasionally, until cooked through. About 10 minutes; set aside.
In a separate pan, heat hash browns over high heat for 15 minutes, turning occasionally.
To build: place prepared hash browns on bottom of bowl. Top with Chorizo, Pico de Gallo, diced avocado and the sunny-side up egg.
Chorizo Seasoning
Combine all ingredients; mix well.
Pico de Gallo
Combine and set aside.
Email Recipe