Breakfast Brisket Tostada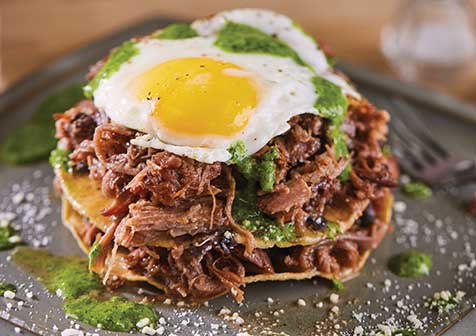 Ingredients
1 lb Smoke'NFast Fully Cooked Brisket
4 crispy tostadas
4 large eggs Kosher salt and pepper, to taste
Black Bean Spread:
1 cup low sodium black beans
1 Tbsp EVOO ½ tsp chili powder
¼ tsp garlic powder ¼ tsp ground cumin
1 ⁄8 tsp cayenne pepper
Chimichurri Sauce:
½ bunch cilantro- washed
1 cup fresh arugula
1 ea. garlic clove, peeled
2 lime, juiced
1 lemon juiced
½ tsp crushed red pepper
½ tsp adobo seasoning
¾ cup EVOO
Toppings: Fresh cilantro, green onions Cotija cheese, sour cream
Details
Product:
Brisket, Smoke'NFast Fully Cooked Brisket
Meal Course:
Breakfast
Dish Type:
Entrée
Preparation
Black Bean Spread:
In blender or food processor, add black beans, seasonings and a little water. Blend until smooth. (If you're using a blender, you may need to stop and stir a few times to help it out.) If spread is too thick, add more water. Taste, and adjust seasoning, then transfer to serving bowl.
Chimichurri Sauce:
In blender, combine all ingredients, and blend till smooth. Set aside.
To Serve:
Preheat oven to 400°F. Spread Black Bean Spread onto each tostada, and then arrange on prepared baking sheet. Bake for 3 to 5 minutes until tostada is crispy and beans are nice and hot.
While tostadas bake, cook eggs by favorite method. (You can scramble them with a little cheese or pan-fry them until crispy and sunny-side up.) Season with salt and pepper.
Heat meat and shred. Once tostadas are ready, top with pulled meat, eggs, Chimichurri Sauce and choice of toppings.
To order, contact your Smithfield Culinary sales representative, call 888-326-7526 or contact us for more information.
Email Recipe