Roasted Sweet Potato & Brisket Salad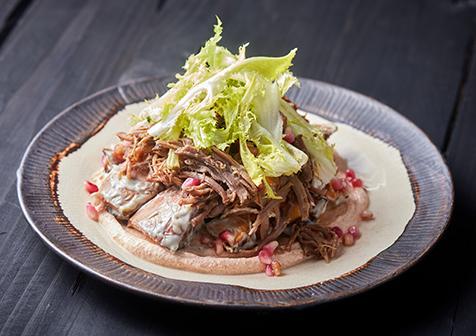 Ingredients
Brisket
6 oz Smithfield Smoke'NFast Brisket (3 oz each dish)
2 each sweet potato
1 tsp salt
1 oz canola oil
1 head Frisee
Blue Cheese Vinaigrette
6 oz blue cheese
1 oz Dijon
1 oz honey
3 oz champagne vinegar
6 oz canola oil
Paprika Yogurt
8 oz Greek yogurt, full fat
1 Tbsp paprika, smoked
1 Tbsp onion powder
1 Tbsp garlic powder
Pickled Pomegranate Seeds
1 each Pomegranate, whole
1 cup water
½ cup sugar
½ cup apple cider vinegar
1 bay leaf
Details
Product:
Brisket
Meal Course:
Dinner, Lunch
Dish Type:
Entrée
Preparation
Sweet Potato and Brisket
Wash sweet potato.
Cut sweet potato into bite-sized pieces.
Season with oil and salt.
Roast sweet potato at 425°F for 20-25 minutes, or until potato is crispy on the outside and creamy on the inside.
Clean Frisee by cutting off the dark green part, keeping the pale-yellow part fo the dish. Wash in cold water.
Heat up and shred brisket.
Dress sweet potatoes in the blue cheese vinaigrette.
To assemble, spread the yogurt sauce on the bottom of the plate. Top with the dressed sweet potatoes, top with brisket and Frisee. Garnish with pickled pomegranate seeds.
Blue Cheese Vinaigrette
In a high-power blend, blend the Dijon, honey and vinegar on medium.
On high-speed, slowly stream the oil into the vinegar mixture.
Once emulsified, add the blue cheese and blend.
Paprika Yogurt Preparation
Mix the yogurt and spices together.
Pickled Pomegranate Seeds
Shuck the seeds out of the pomegranate.
Heat up the water, sugar, vinegar and bay leaf. Bring to a simmer.
While hot, pour over the pomegranate seeds. Cool while the seeds are in the vinegar mixture.
To order, contact your Smithfield Culinary sales representative, call 888-326-7526 or contact us for more information.
Email Recipe