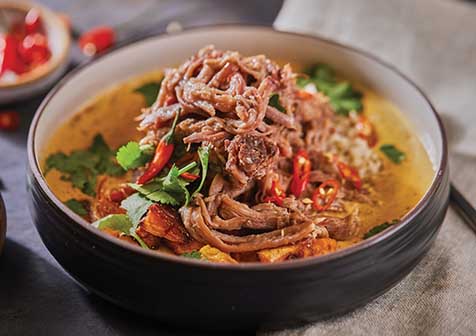 Ingredients
1 lb Smoke'NFast Brisket, heated
Caramelized Sweet Potatoes:
1 sweet potato, peeled, large-diced
2 Tbsp extra virgin olive oil
2 Tbsp ground coriander
2 Tbsp sugar
Brown Long Grain Rice:
2 cups brown long grain rice, cooked
Red Coconut Curry Sauce:
2 Tbsp vegetable oil
1 red bell pepper, julienne
1 large shallot, peeled, small-diced
2 cloves garlic, minced
1 Tbsp grated fresh ginger
2 Tbsp red curry paste
2 cans full-fat coconut milk, unsweetened
1 Tbsp curry power
1 Tbsp clover honey Kosher salt, to taste
3 Tbsp torn fresh cilantro
Details
Product:
Brisket, Smoke'NFast Brisket
Meal Course:
Dinner, Lunch
Dish Type:
Entrée
Preparation
Caramelized Sweet Potatoes:
Preheat oven to 400°F.
Combine all ingredients. Toss to coat, place on greased roasting pan, and roast for 35 to 40 minutes till potatoes and soft and browned. Remove and keep warm.
Red Coconut Curry Sauce:
In medium-sized sauce pot, add oil over medium heat. Add bell peppers, shallots, garlic and ginger, and stir to combine. Cook for 2 minutes, until slightly softened.
Stir in curry paste. Cook for 3 additional minutes, stirring often. Slowly pour in coconut milk while stirring to combine.
Bring to simmer, and start to reduce slightly.
Add curry powder, and season with honey and salt. Continue to simmer.
To Serve:
Line up 4 bowls, add Caramelized Sweet Potatoes, and then ladle with Red Coconut Curry Sauce. Divide up Brisket and Brown Long Grain Rice, and add to bowls. Garnish with fresh cilantro. May be served with roti, Indian flatbread.
To order, contact your Smithfield Culinary sales representative, call 888-326-7526 or contact us for more information.
Email Recipe