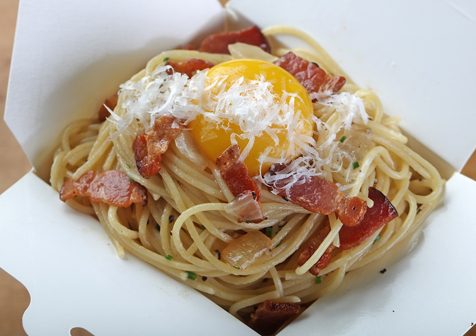 Ingredients
1 Tbsp vegetable oil
4 oz Bacon, sliced into ¼" wide batons
3 Tbsp small-diced Spanish onion
8 cups water
2 Tbsp kosher salt
4 oz Spaghetti
2 Tbsp butter
2 egg yolks
1 oz pecorino, grated
Salt and pepper to taste
2 tsp chopped chives
Details
Product:
Bacon
Meal Course:
Breakfast
Dish Type:
Entrée
Preparation
In a medium sauté pan over medium heat add oil. Add bacon and cool rendered and crispy. Remove from pan leaving excess oil and reserve.
To the same pan, add onion and cook until softened and translucent.
Meanwhile bring water to a boil and season with salt. Add pasta and cook according to package instructions. Remove and strain, reserving one cup of cooking liquid.
To pan with onions, add butter and heat until butter starts to foam. Add in reserved cooking liquid from pasta, spaghetti and reserved cooked bacon. Allow to cook together while tossing until sauce starts to thicken.
Remove from heat and toss in egg yolk and pecorino. Toss to combine, season to taste, and garnish with chopped chives.
Email Recipe