Chorizo & Pork Belly Poutine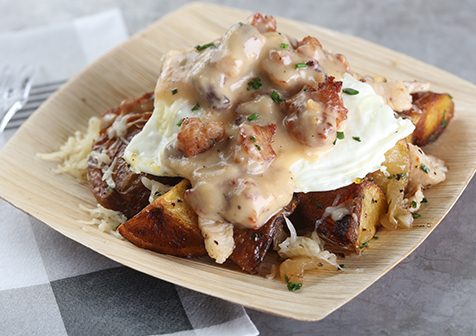 Ingredients
1 cup yellow onion, chopped
1 clove garlic, chopped
3 Tbsp. Butter
1 lb. Chorizo
¼ cup AP flour
2 cups half and half
2 cups vegetable oil
4 large Yukon gold potatoes, boiled until tender and cooled overnight and large dice
1 lb. pork belly, braised until tender, cooled overnight and medium diced
½ pound shredded sharp white cheddar
2 Tbsp. Chives, chopped
Details
Product:
Chorizo, Pork Belly
Meal Course:
Breakfast
Dish Type:
Entrée
Preparation
In a medium sauce pot over medium heat, sautee onions and garlic with butter until softened. Add chorizo and stir continuously until sausage browned and cooked through. Add the flour and stir to combine.
Whisk in the half and half, and bring to a simmer stirring frequently. Season to taste with salt and pepper. Remove and reserve gravy.
In a heavy bottomed cast iron pan or fryer, heat oil to 350 °. Fry potatoes and pork belly together until well browned and crispy.
Place potato/pork belly mixture in individual bowls. Top with reserved chorizo gravy and garnish with cheddar and chives.
To order, contact your Smithfield Culinary sales representative, call 888-326-7526 or contact us for more information.
Email Recipe