BREAKFAST SAUSAGE–SPICED PORK CHOP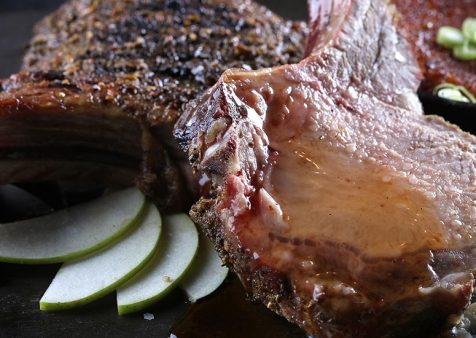 Ingredients
SKILLET HOE CAKES
Yield: 6 hoe cakes
7 oz. coarse yellow cornmeal
8 oz. all-purpose flour
1.5 oz. granulated sugar
0.5 oz. baking powder
1/4 tsp. kosher salt
2 whole eggs
2 egg whites
3 cups whole milk
2 cups clarified butter
1 Tbsp. whole butter
BREAKFAST SAUSAGE SPICE RUB
Yield: 4 pork chops
2 Tbsp. fresh sage
1 Tbsp. fresh thyme
1 Tbsp. fresh rosemary
2 tsp. brown sugar
2 tsp. salt
1 tsp. fennel seed
1/2 tsp. red chili flakes
1/4 tsp. granulated garlic
1/4 tsp. cracked black pepper
CITRUS PICKLED ONIONS
Yield: 2 cups
1 lb. red onions, skin left on
1 tsp. kosher salt
1 oz. sugar
2 oranges
2 limes
MAPLE BUTTER
Yield: 2 cups
1 lb. butter, softened
1/2 cup maple syrup
Details
Product:
Pork Chops
Meal Course:
Breakfast
Dish Type:
Entrée
Preparation
SKILLET HOE CAKES
Preheat oven to 450°F.
Mix all dry ingredients together in medium bowl.
Mix all wet ingredients except clarified butter and whole butter in another bowl.
Add wet ingredients to dry ones and mix well.
Fold in clarified butter. In 2-inch cast iron skillet, melt whole butter over medium heat.
For each hoe cake, add 4-oz. ladle of hoe cake batter and cook until edges are set, 2-3 minutes.
Place in oven and cook until almost set, 3-4 minutes.
Remove from heat, flip cake over and let rest 1 minute.
CITRUS PICKLED ONIONS
Place whole onions directly on grill and cook until charred and soft.
Remove skin and julienne onions.
Place onions in bowl, and toss with salt and sugar.
Squeeze citrus juice over onions and let sit 2 hours.
MAPLE BUTTER
Whip butter in mixer fitted with paddle attachment.
Add maple syrup and whip until incorporated.
Remove from mixer and reserve.
To order, contact your Smithfield Culinary sales representative, call 888-326-7526 or contact us for more information.
Email Recipe