Brisket Sandwich on Sourdough Baguette with Pepperoncini Aioli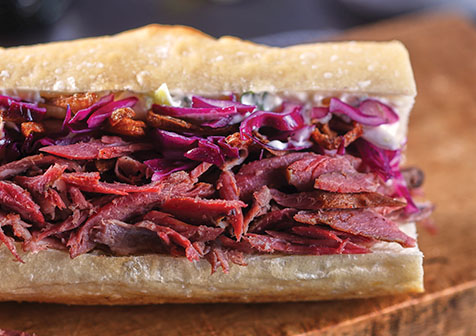 Ingredients
1 sourdough baguette, cut into 6-inch portions1 cup diced celery
3/4 cup diced yellow onion
2-3 Tbsp Pepperoncini Aioli (recipe follows)
4-5 oz Smoke'NFast Beef Brisket, shredded and warmed in stock
1/3 cup Fennel and Red Cabbage Slaw  (recipe follows)
Crispy Shallots, for garnish  (recipe follows)
Pepperoncini Aioli:
1/2 cup pepperoncini peppers, seeded and finely chopped
1 cup mayonnaise
1/2-1 Tbsp pepperoncini juice or white vinegar
2 Tbsp chopped basil
Kosher salt, to taste
Fennel and Red Cabbage Slaw:
1/8 head red cabbage, finely shredded
1/2 small piece fresh fennel, cored and finely sliced
2 Tbsp rice wine vinegar
1 Tbsp extra virgin olive oil
Salt and pepper, to taste
Crispy Shallots:
4 small shallots, sliced very thinly
1/2 cup all-purpose flour
Canola oil, for frying
Details
Product:
Brisket
Meal Course:
Lunch
Dish Type:
Sandwich
Preparation
Split 1 baguette portion evenly through the middle. Lightly toast if desired.
Spread Pepperoncini Aioli evenly over top and bottom insides of baguette.
Evenly place brisket over bottom inside of baguette.
Top evenly with Fennel and Red Cabbage Slaw.
Garnish with Crispy Shallots. Replace top half of baguette.
Pepperoncini Aioli:
Combine all ingredients, and mix well. Adjust seasoning as desired.
Fennel and Red Cabbage Slaw:
Combine red cabbage and fennel, and toss well. Add vinegar and oil, tossing to coat evenly.
Season with salt and pepper. Adjust with more vinegar if needed.
Crispy Shallots:
Toss sliced shallots in flour, coating lightly and evenly, removing excess flour.
Submerge in deep fryer at 300°-325°F, and fry until just lightly golden brown and crispy.
Remove from fryer, and drain well. Toss lightly with salt.
To order, contact your Smithfield Culinary sales representative, call 888-326-7526 or contact us for more information.
Email Recipe