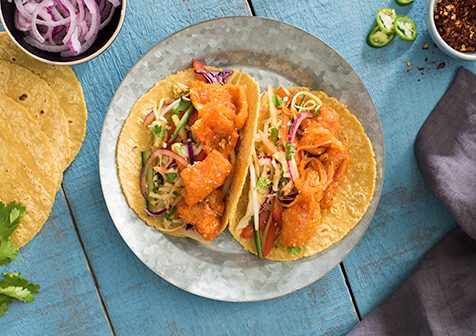 Ingredients
Bulgogi Sauce
2 cups water
1 cup soy sauce
1 medium yellow onion, sliced thin
1/4 cup low-sodium soy sauce
1/4 cup minced garlic
1/4 cup toasted sesame seeds
1/4 cup Korean red pepper flakes
1/4 cup Korean fermented hot pepper paste (gochujang)
2 Tbsp. sugar
2 Tbsp. sesame oil
2 tsp. black pepper
Korean Slaw
1 lb. coleslaw mix (cabbage)
1 jalapeño pepper, julienne
1 medium red bell pepper, julienne
1 small cucumber, julienne
1 small red onion, thinly sliced
1 bunch cilantro, chopped
1/4 lb. fresh bean sprouts
8 oz. Pork Rind Pellets (large)
24 corn or flour tortillas, heated
Asian Vinaigrette
1 Tbsp. soy sauce
1 Tbsp. rice wine vinegar
10 Tbsp. lemon juice
1 Tbsp. vegetable oil
1 Tbsp. brown sugar
2 tsp. sesame oil
1/2 tsp. sesame seeds
1/2 tsp. ground ginger
1/2 tsp. ground black pepper
Details
Product:
Pork Rind
Meal Course:
Dinner, Lunch
Dish Type:
Appetizer, Entrée, Sandwich
Preparation
Combine Asian vinaigrette ingredients; mix well and set aside.
Combine Korean slaw ingredients; toss with Asian vinaigrette; refrigerate.
Microwave or deep-fry large pork rind pellets according to package directions and set aside.
Combine Bulgogi sauce ingredients; bring to boil. Add cooked pork rinds and lower heat; simmer for 2 minutes or until sauce is fully absorbed.
Layer each tortilla with some sauced pork rinds and slaw mixture; serve.
To order, contact your Smithfield Culinary sales representative, call 888-326-7526 or contact us for more information.
Email Recipe