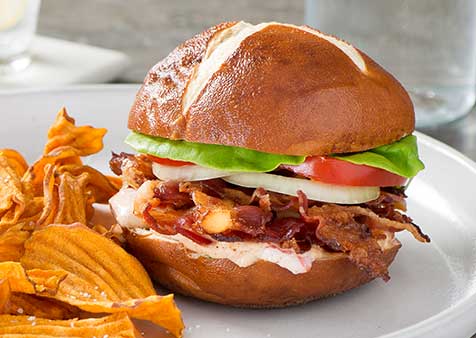 Ingredients
BLT Ingredients:
1 Pretzel bun
2 Tbsp. Chipotle onion mayo
3 Slices candied bacon
1 Slice lettuce
2 Slices tomato
3 Slices onion
5 Slices avocado
Mayo Ingredients:
1/2 cup mayonnaise
2 Tbsp. caramelized onion
1 tsp. Chipotle powder
1 Tbsp. red peppers, roasted, diced
Candied Bacon Ingredients:
Details
Product:
Bacon
Meal Course:
Lunch
Dish Type:
Entrée, Sandwich
Preparation
Candied Bacon:
Heat oven to 325°F.
Line strips of bacon on a sheet tray and bake until bacon is 75% cooked through.
Sprinkle each slice with .5 T of brown sugar.
Carefully use the blow torch to caramelize the sugar.
Cool and set aside.
Chipotle Onion Mayo:
In a medium bowl, whisk mayo, onion, chipotle powder and red peppers together thoroughly.
To build burger:
On bottom half of the pretzel bun, spread chipotle mayo and layer with bacon, lettuce, tomato, onion, and avocado.
Top with crown of pretzel bun and serve.
Prep Time: 5 min.
Cook Time: 15 min.
To order, contact your Smithfield Culinary sales representative, call 888-326-7526 or contact us for more information.
Email Recipe