Cherry Chocolate Bacon Cookie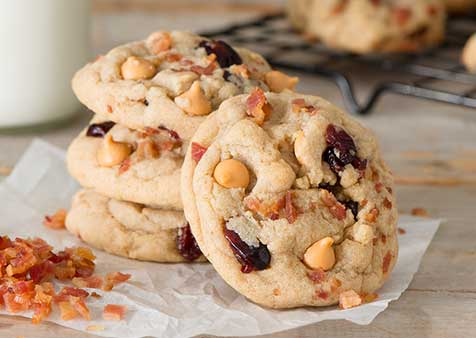 Ingredients
3/4 cup butter, softened
1/2 cup white sugar
1 cup brown sugar
1 Tbsp. vanilla extract
1 Egg, whole
1 Egg, yolk
2-1/4 cup Flour
10 slices 18/22 Single Slice Cherrywood Bacon, cooked, chopped
1/2 Tbsp. baking soda
1-1/2 cup chocolate chips
1/2 cup butterscotch chips
1/2 cup dried cherries
Details
Product:
Bacon
Meal Course:
Breakfast, Dinner, Lunch
Dish Type:
Dessert
Preparation
In a medium bowl, cream butter with white and brown sugar on medium speed.
Add vanilla and eggs to the bowl and beat until mixture is light and creamy.
Slowly add flour and baking soda; mix well.
Add bacon, chocolate and butterscotch chips and stir until just combined.
Line cookie sheet with parchment paper.
Scoop 2 tablespoons of the cookie dough and line on cookie sheet.
Bake at 325°F for 13-15 minutes or until edges of cookies are lightly browned.
Prep Time: 10-12 min.
Cook Time: 15 min.
To order, contact your Smithfield Culinary sales representative, call 888-326-7526 or contact us for more information.
Email Recipe