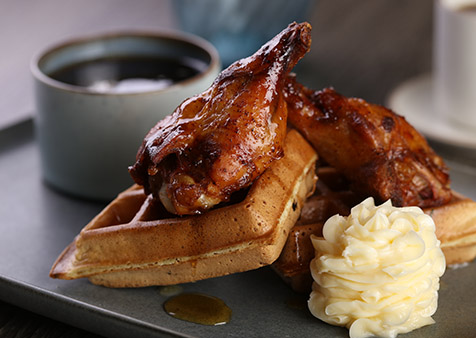 Ingredients
Ingredients:
12 Curly's by Smithfield® Smoked Chicken Wings
4 Sweet Waffles
4 oz Whipped Tabasco Honey Butter
8 oz Maple-Vanilla-Bourbon Syrup
Sweet Waffle:
2 cups all-purpose flour
4 tsp baking powder
½ tsp salt
¼ cup granulated sugar
2 large cage-free eggs
½ cup vegetable oil
2 cups half-and-half
1 Tbsp honey
1 tsp vanilla
Whipped Tabasco-Honey Butter:
1 lb unsalted butter, soften
2 oz local honey
4 dashes Tabasco®
Maple-Vanilla-Bourbon Syrup:
2 cups maple syrup
2 tsp bourbon
½ tsp pure vanilla extract
Details
Product:
Smoked Chicken Wings
Meal Course:
Breakfast, Dinner
Dish Type:
Entrée
Preparation
Bake or fry chicken wings to desired texture.
To plate, place 1 Sweet Waffle in middle of each plate.
Pipe 1 oz Whipped Tabasco-Honey Butter on middle of waffle.
Add 3 chicken wings.
Pour 2 oz Maple-Vanilla-Bourbon Syrup over wings and waffles.
Preheat oven to 350°F. Bake for 30 minutes or until cheese is melted.
For Sweet Waffle, in bowl, sift and mix dry ingredients thoroughly.
In second bowl, combine all wet ingredients, and whisk until fully mixed. Slowly add dry ingredients, whisking while adding. Mix until both are fully incorporated. Cover mixture and place in refrigerator for minimum of 30 minutes. (Best if used when chilled.)
Heat waffle iron; spray with nonstick spray if needed. Pour waffle mixture onto hot waffle iron. Cook until golden brown and waffle batter is fully cooked.
For Whipped Tabasco-Honey Butter, place butter, local honey and Tabasco® in mixer.
Mix, using paddle until you have soft peaks.
Set butter off to the side until ready to use.
For Maple-Vanilla-Bourbon Syrup, place syrup, bourbon and vanilla extract into small mixing bowl, and whisk. Place in small pot on low heat to warm.
To order, contact your Smithfield Culinary sales representative, call 888-326-7526 or contact us for more information.
Email Recipe