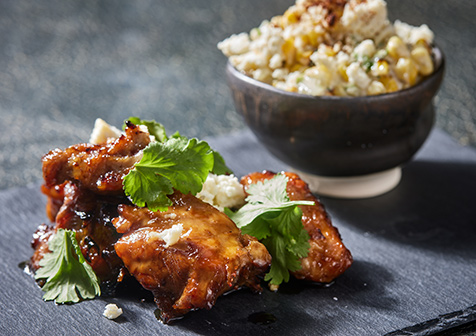 Ingredients
20 Smithfield Smoke'NFast KC Boneless Wings

4 large ears fresh corn, shucked (yielding about 4 cups of kernels)

Vegetable oil, for brushing corn

4 Tbsp unsalted butter

½ cup small-diced sweet onion

1 jalapeño pepper, cored, seeded and minced

¼ tsp salt

 

½ cup sour cream

½ cup mayonnaise

1 tsp chipotle powder (or ancho or guajillo)

½ tsp salt

2 cloves garlic, grated

½ cup chopped cilantro, leaves only, divided

2 tsp lime zest (from 1 large lime)

2 Tbsp fresh lime juice

¾ cup finely crumbled Cotija cheese, divided
Details
Product:
Smoked Chicken Wings
Meal Course:
Dinner, Lunch
Dish Type:
Entrée, Side Dish
Preparation
Turn grill on to high heat.

Brush corn with vegetable oil, and set corn ears on grill, directly over flame. Give ears a quarter turn every 3 to 4 minutes until kernels are moderately charred (take care, as some kernels may burst).

Remove from heat, and carefully cut kernels from cobs with sharp knife.

 

In large sauté pan, melt butter over medium-high heat.

 

When butter is hot, add sweet onions, jalapeños and ¼ teaspoon salt, and sauté for a couple of minutes (the onion should not be soft, just slightly crunchy).

Stir in corn, and let cook for another 2 to 3 minutes. Remove from heat.

In large bowl, stir sour cream, mayonnaise, chipotle powder, ½ teaspoon salt, garlic, ¼ cup cilantro, lime zest and juice, and 6 tablespoons Cotija cheese together until blended. Mix in corn.

Cover with plastic, and refrigerate overnight (or you can use it right away).

Serve with heated boneless wings.
To order, contact your Smithfield Culinary sales representative, call 888-326-7526 or contact us for more information.
Email Recipe