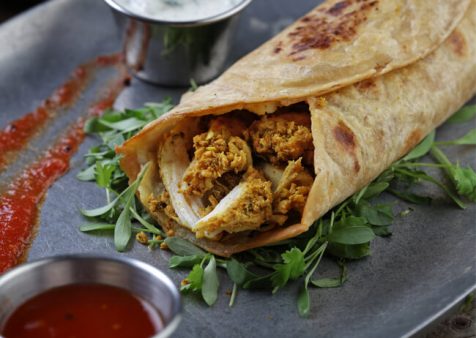 Ingredients
2 Tbsp. cooking oil
2 cloves garlic, finely chopped
2 onions, 1 finely chopped and 1 finely diced
Salt, to taste
½-inch ginger, julienned
Pinch of turmeric powder
¼ tsp. red chili powder
¼ tsp. cumin powder
¼ tsp. coriander powder
1 lb. Marinated Pulled Chicken (recipe to follow)
¼ tsp. black pepper, freshly ground
1 tsp. cooking oil (for parathas)
4 medium-sized parathas (fresh or frozen, or substitute tortillas)
3 eggs, beaten well
2-3 mint leaves
8-10 cilantro, finely chopped
1 lemon, cut in wedges
¾ cup tomato jam (recipe to follow)
½ cup green chili chutney (recipe to follow)
1 cup cucumber raita (recipe to follow)
Marinated Pulled Chicken:
½ tsp. lemon juice
⅛ tsp. coriander powder, toasted
⅛ tsp. cumin powder
Pinch turmeric powder
⅛ tsp. red chili powder
1 lb. Pulled Chicken
Tomato Jam:
2 Tbsp. sesame oil
1 tsp. black mustard seeds
4 oz. red onion, thinly sliced
1 lb. grape tomatoes
2 Tbsp. jaggery or brown sugar
¾ tsp. red chili powder
Salt, to taste
Green Chile Chutney:
2 tsp. sesame oil
1 tsp. black mustard seeds
½ tsp. asafoetida powder
1 whole, 2-inch piece red chile, dry
1 sprig (about 12 leaves) curry leaves
8 whole serrano peppers, chopped
4 Tbsp. brown sugar
4 Tbsp. tamarind paste
Cucumber Raita:
½ cup plain yogurt, strained
½ cup shredded and squeezed English cucumber
2 Tbsp. chopped cilantro
2 tsp. chopped green onions
¼ tsp. ground cumin, toasted
1 tsp. lime juice, fresh
Salt, to taste
Details
Pulled Chicken brands offered: Curly's
Product:
Pulled Chicken
Meal Course:
Dinner, Lunch
Dish Type:
Entrée, Sandwich
Preparation
Heat 1 Tbsp. oil in wok over medium heat. When oil is hot, sauté garlic for 30 secs.
Add finely chopped onions only and pinch of salt to help quicken onion frying.
When onions turn translucent, add ginger pieces and sauté for about a minute. Add turmeric, red chili, cumin and coriander powders and fry.
Add marinated chicken pieces and fry for a couple of minutes. Add about ½ cup water. Add salt. Mix well, cover and let chicken cook on medium heat for 5 to 6 minutes.
Fry chicken pieces over medium heat for another 4 to 5 minutes, until done.
Sprinkle on ground black pepper and mix well. Turn off heat and put filling aside.
To ready paratha, add oil and heat sauté pan over medium heat.
Add 1 paratha when pan is hot and let it cook to about 80% on both sides.
Reduce heat to low. Add some oil to pan, spread it out and add some beaten egg.
Spread egg around pan well. Add warm paratha on top of frying egg. Press paratha to egg. In 1 minute, flip paratha. After about 30 seconds, transfer paratha to a plate.
Divide chicken filling into 4 portions. Add 1 portion to center of paratha-egg mixture. Add finely diced onions and chopped mint and cilantro leaves and lemon juice.
Roll it up tightly like a wrap and cover with foil. Serve with: Tomato Jam, Green Chile Chutney and Cucumber Raita.
Marinated Curly's Pulled Chicken:
Combine all ingredients but chicken and use to marinate pulled chicken.
Tomato Jam:
Heat oil for tampering in heavy-based frying pan. Add mustard seeds and allow to crackle. Add onions and caramelize.
Add tomatoes, jaggery or brown sugar, chili powder and salt. Cook over low heat.
Simmer until tomatoes are mushy and sauce starts to thicken. Keep stirring to prevent it from sticking to pan.
Pass mix through mini ricer or puree in mini Vitamix. Strain through strainer to get smooth sauce.
If consistency is not thick enough, cook more.
Keep warm until needed. Adjust seasoning.
Green Chile Chutney:
Heat oil, add mustard seeds, asafoetida, red chile and curry leaves.
When mustard seeds splutter, add serrano chiles, and sauté for about 2 minutes.
Stir in jaggery, tamarind paste and salt.
Simmer until sauce thickens.
Blend to a smooth paste; cool.
Cucumber Raita:
Mix all ingredients except salt in medium bowl. Season with salt. Chill.
To order, contact your Smithfield Culinary sales representative, call 888-326-7526 or contact us for more information.
Email Recipe