Smoked Chicken and Kale Salad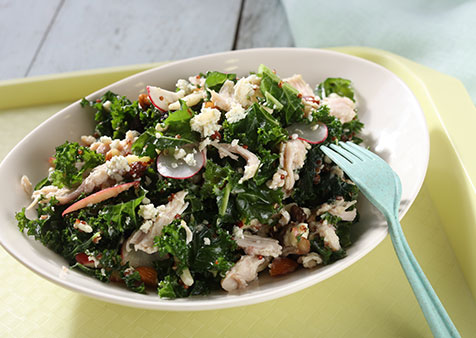 Ingredients
1 cup red quinoa
1 lb curly kale
½ cup roasted almonds
2 radishes
1 Gala apple
1.5 lb Curly's by Smithfield® Smoked Pulled Chicken
4 oz blue cheese
½ cup dried raisins
4 fl oz Ginger Vinaigrette (recipe follows)
Salt and pepper, to taste
Ginger Vinaigrette:
1 cup apple cider vinegar
¼ cup sugar
2 Tbsp honey
2 Tbsp freshly chopped ginger
1 Tbsp minced shallots
1 Tbsp Dijon mustard
1 Tbsp salt
1 tsp black pepper
1 Tbsp fresh thyme
2 cups olive oil
Details
Product:
Pulled Chicken
Meal Course:
Dinner, Lunch
Dish Type:
Entrée, Side Dish, Soup/Salad
Preparation
Simmer 1 cup red quinoa with 2 cups water for 20 minutes. Drain, and cool.
Trim, clean, and chop kale into bite-size pieces.
Chop roasted almonds.
Shave radishes thinly. Hold in water.
Cut Gala apple into matchsticks.
Pull chicken into bite-size pieces.
Place chicken, kale, radishes, apples, almonds, blue cheese and raisins into large mixing bowl.
For Ginger Vinaigrette, add all the ingredients, except oil, to the blender.
Turn blender on a low setting.
Drizzle oil in slowly.
Once all the oil is incorporated, mix on high for 2 minutes.
Dress salad with Ginger Vinaigrette, and season with salt and pepper. Toss salad.
To order, contact your Smithfield Culinary sales representative, call 888-326-7526 or contact us for more information.
Email Recipe