Smoked Chicken Flautas with Mexican Coleslaw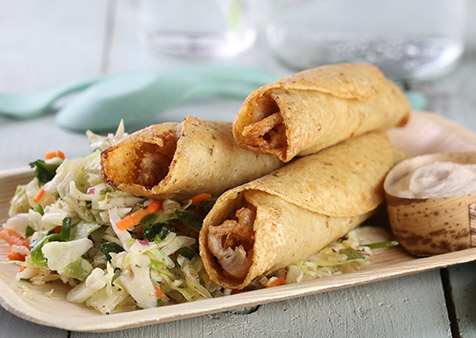 Ingredients
Latin Rub:
1 Tbsp black pepper
1 Tbsp kosher salt
1 Tbsp granulated garlic
1 Tbsp granulated onion
1 tsp ground Mexican oregano
1/2 tsp ground cumin
1/2 tsp ground coriander
Mexican Coleslaw:
1 14-oz package prepared coleslaw mix
1/4 small red onion, thinly sliced
1/4 cup chopped cilantro leaves
1/3 cup olive oil
2 limes juiced (about ¼ cup)
1 Tbsp minced garlic
2 Tbsp honey
1 Tbsp Latin Rub (recipe above)
1 tsp minced jalapeño (seedless)
Que Crema:
16 oz sour cream
1/2 cup BBQ sauce
Flautas:
8 corn tortillas
1 lb Curly's by Smithfield® Smoked Chicken
Details
Product:
Pulled Chicken
Meal Course:
Lunch
Dish Type:
Appetizer
Preparation
For Latin Rub, combine all ingredients; set aside.
For Mexican Coleslaw, in large bowl, combine all ingredients; refrigerate.
For Que Crema, in large bowl, combine all ingredients; refrigerate.
For Flautas, preheat oil in deep fryer to 350°F. Toss 1 Tbsp Latin Rub into chicken. Spoon mixture down center of each tortilla, then lightly roll, and toothpick closed.
Pick up flautas with tongs, and fry for 1-2 minutes or until crispy. Remove from oil and place back on baking sheet with paper towel to absorb oil.
Serve flautas with Mexican Coleslaw and Que Crema.
To order, contact your Smithfield Culinary sales representative, call 888-326-7526 or contact us for more information.
Email Recipe