Chicken Mole Calzone with Chihuahua Cheese & Roasted Butternut Squash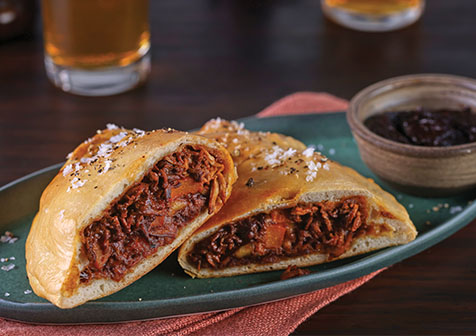 Ingredients
1 4-oz portion pizza dough
3 oz Pulled Chicken Mole (recipe follows)
2 oz Roasted Butternut Squash (recipe follows)
1-1¼ oz Chihuahua cheese, shredded and divided
¼ cup egg wash
Pulled Chicken Mole:
6 guajillo chiles
4 ancho chiles
6 pasilla chiles
1-3 cups chicken stock
6 whole cloves
½ tsp black peppercorns
¼ tsp coriander seeds
¼ tsp anise seeds
¾ cup sesame seeds
½ whole cinnamon stick
½ cup raisins
¹⁄3 cup almonds
¹⁄3 cup peanuts
¾ cup diced French bread
¹⁄3 cup raw pumpkin seeds
1 cup diced white onion
2 tomatillos, husked and chopped
2 plum tomatoes, roasted and chopped
3 garlic gloves, roasted
3 ½ oz

 

Mexican chocolate,

 

chopped
Salt, to taste
1 lb Smithfield Smoke'NFast Pulled Chicken, warmed in mole sauce
Roasted Butternut Squash:
1½ cups butternut squash, ½-inch dice
1 Tbsp olive oil
Salt and pepper, to taste
Details
Product:
Smoke'NFast Roasted & Seared Chicken
Meal Course:
Lunch
Dish Type:
Sandwich
Preparation
Roll pizza dough on floured surface. Mix Pulled Chicken Mole and Roasted Butternut Squash together. Fold in 1 ounces cheese.Place chicken mixture into center of dough, leaving border. Sprinkle ¼ ounces cheese over meat mixture. Carefully fold over, forming half-moon shape, and press lightly to seal. Transfer to parchment-lined sheet tray. Making slits in calzone. Egg wash calzone lightly. Bake in 400°F convection oven for 20-30 minutes or until golden brown. Serve with small ramekin of mole on the side.
Pulled Chicken Mole: 
Toast chiles in hot sauté pan until browned. Remove from pan and de-seed. Place warm peppers in hot chicken stock to soak and soften. Toast all spices and seeds (other than pumpkin seeds), and then cool. Grind those spices and seeds in grinder until fine. Plump raisins in stock. Sauté almonds and peanuts to golden-brown color. Sauté French bread until golden brown. Sauté pumpkin seeds until puffy and golden brown. Sauté white onions until lightly golden. Add tomatillos and tomatoes, and cook until soft. Place ½ cup to 1 cup chicken stock in blender. Slowly add all remaining ingredients except chicken, adding more stock to help blender blades move. Blend until very smooth but still thick.Pour into pan, and fry slightly to cook a bit further and reduce. Combine pulled chicken with just enough mole to coat chicken and create a sauciness. Add cooked flour to broth until mixture thickens.
Roasted Butternut Squash:
Toss squash in olive oil, salt and pepper. Roast in 350°F convection oven 20-25 minutes. Remove and cool.
To order, contact your Smithfield Culinary sales representative, call 888-326-7526 or contact us for more information.
Email Recipe