Chicken & Sausage Jambalaya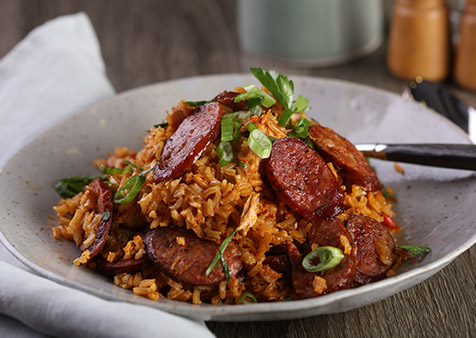 Ingredients
2 Tbsp vegetable oil
2 lbs Smithfield Smoked Sausage, bias cut
1½ qt chicken stock, divided
1 medium yellow onion, small dice
2 stalks celery, small dice
1 medium green pepper, small dice
1 tsp minced garlic clove
1 Tbsp tomato paste
2 lbs Smithfield Smoke'NFast Pulled Chicken
1 Tbsp Cajun Spice Blend (recipe follows)
1½ lbs (dry) parboiled rice
1 Tbsp unsalted butter
1 bay leaf
¼ cup green onions, bias cut
Cajun Spice Blend:
1 Tbsp cayenne pepper
1 Tbsp red pepper
2 Tbsp smoked paprika
2 Tbsp table-ground black pepper
1 Tbsp cumin
4 Tbsp dark chile powder
2 Tbsp garlic powder
1 Tbsp granulated onion
Details
Product:
Pulled Chicken, Smoked Sausage
Meal Course:
Dinner
Dish Type:
Entrée
Preparation
Heat large cast iron skillet or Dutch oven (5 qt) over medium to high heat. Add vegetable oil. Once oil moves freely around skillet, add bias-cut sausage, and sear until both sides are golden brown. Remove and set aside.
Add ½ cup chicken stock to deglaze skillet, and cook until stock has reduced by half. Layer in yellow onions, celery, green peppers and minced garlic. Sauté using medium to high heat until peppers are tender and onions are translucent in color, about 5-7 minutes. Add tomato paste, and cook for an additional 3-5 minutes.
Add chicken and sausage to skillet. Combine Cajun Spice Blend ingredients. Add 1 tablespoon to chicken and sausage to mixture and fully incorporate.
Add remainder of chicken stock, and bring to boil. Add rice, butter and bay leaf; stir until rice is fully mixed. Bring back to boil, turn heat to low, cover, and simmer for 30-40 minutes or until desired consistency.
Remove lid; serve in shallow bowl or plate. Add fresh green onions for garnish and finishing flavor.
To order, contact your Smithfield Culinary sales representative, call 888-326-7526 or contact us for more information.
Email Recipe