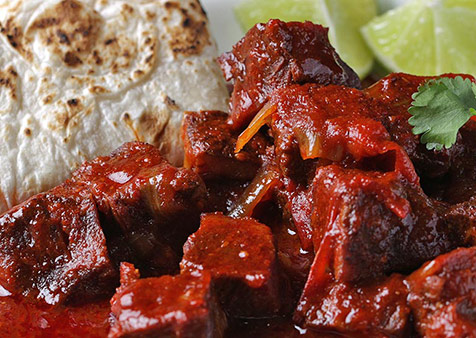 Ingredients
4 oz. whole dried New Mexico chiles (12)
2 oz. whole dried guajillo chiles (12)
8 cups boiling-hot water
1 white onion, cut into strips
4 garlic cloves, smashed
2 red peppers, cut into strips
1 tsp. ground cumin
1 tsp. dried oregano, crumbled
2 Tbsp. vegetable oil
2 Tbsp. all-purpose flour
2 lbs. Smoked Beef Brisket, cut into 1″ -1.5″ cubes
2 Tbsp. kosher salt, or to taste
2 tsp. sherry vinegar, or to taste
1 tsp. sugar, or to taste
6-8 flour tortillas
1 onion, chopped, to taste
Cilantro, to taste
6-8 lime wedges
Details
Product:
Brisket
Meal Course:
Dinner, Lunch
Dish Type:
Entrée
Preparation
Rinse chiles and split open, discarding stems, seeds and ribs.
Heat well-seasoned cast-iron skillet over moderate heat; then toast chiles skin sides up, in batches, about 30 seconds (be careful not to burn them, or sauce will be bitter).
Transfer toasted chiles into blender carafe and pour boiling water over them. Cover and soak, stirring occasionally, until softened, about 15 minutes.
Puree chiles with three-fourths of soaking liquid, reserving remainder, in blender until smooth.
Pour puree through coarse sieve into bowl, pressing on solids, and discard solids. Whisk reserved soaking liquid into chile mixture.
Cook onions, garlic, red peppers, cumin and oregano in oil in large, heavy saucepan over moderately low heat, stirring, 2 minutes. Add flour and cook, stirring, 2 minutes. Add cubed brisket and cook, stirring, 2 minutes. Stir in chile mixture and simmer, partially covered, stirring occasionally, until reduced and thickened, about 30 minutes. Season with salt, vinegar and sugar.
Serve with warm flour tortillas.
Garnish with chopped onion, cilantro and lime wedges.
To order, contact your Smithfield Culinary sales representative, call 888-326-7526 or contact us for more information.
Email Recipe