Crispy Pepperoni and Egg Breakfast Pizza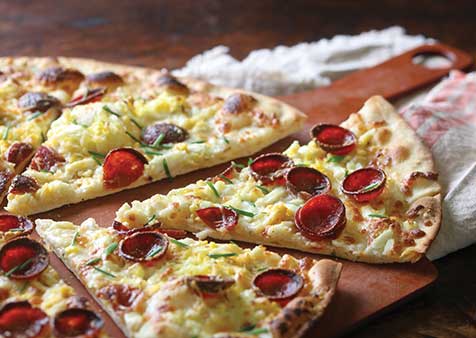 Ingredients
Pizza:
12-inch parbaked pizza crust
1/4 cup Alfredo sauce
1 cup shredded mozzarella cheese
2 Tbsp grated Parmesan cheese
3 hard boiled eggs, coarsely chopped
1 Tbsp minced fresh chives
Alfredo Sauce:
1 Tbsp butter
2 Tbsp shallots, minced
1/2 tsp minced garlic
2 cups heavy cream
1 Tbsp cornstarch slurry
1/2 cup grated Parmesan cheese
1 pinch black pepper
Details
Product:
Pepperoni
Meal Course:
Breakfast
Dish Type:
Entrée
Preparation
Spread pepperoni on tray and parbake for 3 minutes at 375°F to render some fat off.
Spread Alfredo sauce on crust, spreading to edges.
Top evenly with shredded mozzarella and Parmesan.
Add chopped hard-boiled egg over top.
Scatter parcooked pepperoni over top.
Bake at approximately 375°F for 8 to 10 minutes.
Slice in 6 to 8 pieces per pizza; scatter chives over top.
For Alfredo Sauce, sauté shallots and garlic in butter until lightly golden.
Add heavy cream, and bring to boil.
Turn to low, and simmer for 20 minutes.
Add cornstarch slurry to thicken.
Whisk in Parmesan cheese and black pepper.
To order, contact your Smithfield Culinary sales representative, call 888-326-7526 or contact us for more information.
Email Recipe