Margherita Pepperoni Pizza with Smoked Jalapeño Glaze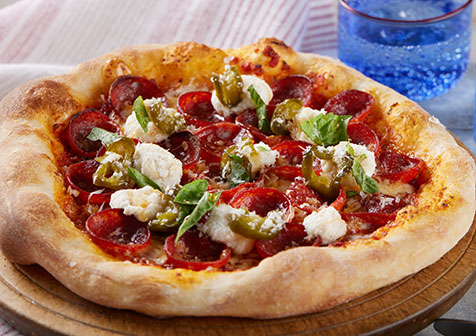 Ingredients
Smoked Jalapeño Glaze Ingredients
1 cup hickory wood chips (soaked in water for 15 minutes)

2 fresh jalapeños (half for puree/half for garnish)

1 cup maple syrup

1 clove fresh garlic, peeled, rough chopped

1 fresh lime, juiced

 
Parmesan Whipped Ricotta Ingredients
½ cup ricotta cheese

 

½ cup freshly grated Parmesan cheese

 

Salt and freshly grated pepper, to taste

 
Pizza Ingredients
3 oz Margherita Cup-and-Char Pepperoni
2

 

5-oz sourdough pizza portions
2 oz pizza sauce

 

4 oz part skim grated mozzarella cheese

 

1 Tbsp Smoked Jalapeño Glaze (recipe above)

½ cup Parmesan Whipped Ricotta (recipe above)

 

4 torn fresh basil leaves

2 Tbsp freshly grated Parmesan cheese

 
Details
Product:
Pepperoni
Meal Course:
Dinner, Lunch
Dish Type:
Entrée
Preparation
Smoked Jalapeño Glaze Preparation
Preheat grill on high heat. Cover wood chips with water, then drain water, and wrap wood chips in foil and place onto hot grill.

Place jalapeños onto coolest side of grill, cover grill, and smoke peppers for 30 minutes or until peppers are soft. Remove, and allow to cool to touch. Cut 1 pepper in half (removing seeds is optional). Reserve remaining pepper, and thinly slice it to garnish pizza.

 

In small saucepan, bring maple syrup to boil over medium heat. Continue cooking until syrup thickens, approximately 15 minutes.

 

Using food processor, combine reduced maple syrup, garlic and pepper halves; puree until smooth. Strain into container, and add sliced smoked peppers and lime juice. Correct seasoning if necessary. Reserve.

 
Parmesan Whipped Ricotta Preparation
In small mixing bowl, combine ricotta and Parmesan, and season with salt and pepper. Mix well. Reserve.
Pizza Preparation
Stretch pizza doughs to desired size.

 

Spread 1 ounce pizza sauce onto each stretched dough; add mozzarella cheese and pepperoni on dough.

Place into 550°F oven, and cook pizzas until golden brown and crisp.

Remove from oven, add Parmesan Whipped Ricotta, drizzle on Smoked Jalapeño Glaze, and garnish


with torn basil, freshly grated Parmesan cheese and other half of peppers.
To order, contact your Smithfield Culinary sales representative, call 888-326-7526 or contact us for more information.
Email Recipe