Boneless Ham-Eye Pork Chop Milanese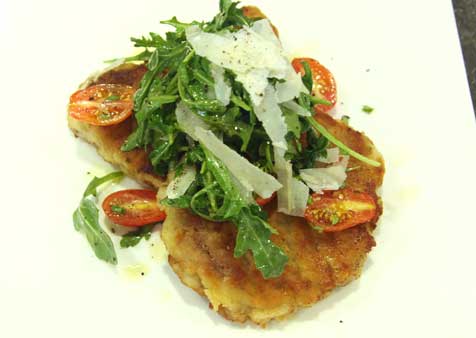 Ingredients
4 cups panko bread crumbs
8 whole eggs
4 cup all-purpose flour
Fresh baby arugula
Mixed cherry tomatoes (heirloom if possible)
Fresh basil
Fresh parsley
Parmesan cheese
2 lemons
Extra virgin olive oil
Details
Product:
Pork Chops
Meal Course:
Dinner, Lunch
Dish Type:
Entrée
Preparation

Blend panko in a food processor to achieve a flour like consistency.
Whisk eggs with a 1/2 cup of cold water to thin out.
Sift flour.
Liberally season eye chops with salt and pepper.
Dredge in flour, then egg wash, then in the panko.
In a heavy bottomed sauté pan heat enough grapeseed oil to completely cover the bottom over medium-high heat.
Cook the chops on both sides until golden brown (very important to make sure oil is hot before adding the pork to achieve a nice crust without absorbing an excess of the oil).
Wash all arugula, herbs, and tomatoes.
Combine arugula, herbs, and sliced tomatoes in a mixing bowl with the juice from the lemons and the olive oil. Season to taste with salt and pepper.
To serve: Plate pork milanese and top with a handful of the salad. Shave fresh parmesan on top and drizzle with olive oil.
To order, contact your Smithfield Culinary sales representative, call 888-326-7526 or contact us for more information.
Email Recipe