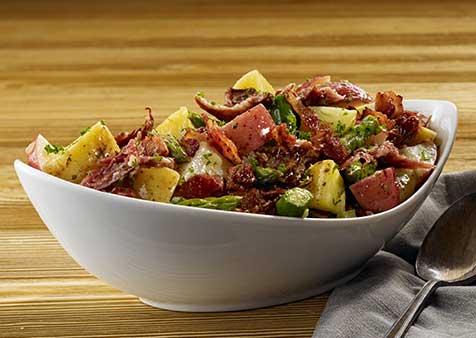 Ingredients
1.5 lb. Smoked Neck Bones
2 lb. (6 medium) red boiling potatoes cut into 1-inch pieces
1 lb. (3 medium) Yukon gold potatoes cut into 1-inch pieces
1.5 lb. asparagus
1 cup celery chopped
1 tablespoon dried parsley
6 slices Hickory Smoked Bacon
1 cup sweet yellow onion finely chopped
3/4 cup distilled white vinegar
1/4 cup olive oil
1 tablespoon sugar
1 tablespoon Dijon mustard
Details
Product:
Bacon, Pork Neck Bones
Meal Course:
Dinner, Lunch
Dish Type:
Side Dish, Soup/Salad
Preparation
Place neck bones in stock pot. Cover with water; bring to boil over medium high heat. Reduce heat and simmer 1 1/2 to 2 hours until meat begins to fall off bones. Remove neck bones from pot, reserving stock, allow neck bones to cool slightly and remove meat from bones; set aside.
Place potatoes in reserved stock and bring to boil over medium high heat; cook 20 to 25 minutes or until tender. Remove potatoes. Place asparagus in boiling stock and blanch for 1 to 2 minutes. Remove; allow to cool and cut into 1-inch slices.
Combine meat, potatoes, asparagus, celery, and parsley in a large serving bowl.
In large skillet, over medium heat, cook bacon until browned and crisp; drain. Crumble bacon and add to potato salad mixture. Keep rendered fat.
Add onion to fat in skillet; stir-fry over medium heat until tender and transparent. Reduce heat to low; add vinegar, olive oil, sugar, and mustard; whisk for thirty seconds. Immediately pour over potato salad mixture and toss. Serve warm.
To order, contact your Smithfield Culinary sales representative, call 888-326-7526 or contact us for more information.
Email Recipe