Grilled Al Pastor Porterhouse Chops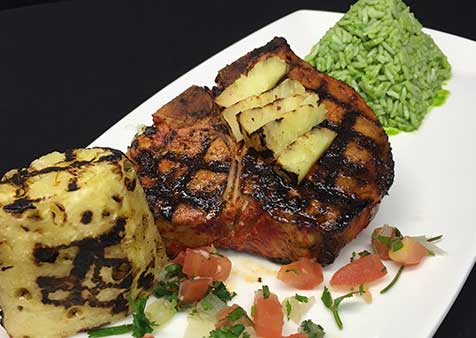 Ingredients
1 ½ cups white rice
3 cups chicken stock
1 bunch fresh cilantro
2 cups fresh spinach
1 whole pineapple
Salt and pepper to taste
Al Pastor Marinade
8 Guajillo peppers
¼ white onion
4 cloves garlic
1 cup apple cider vinegar
½ cup apple juice
½ cup pineapple juice
¼ tsp. ground cloves
¼ tsp. cinnamon
¼ tsp. cumin
¼ tsp. ground thyme
Details
Product:
Pork Chops
Meal Course:
Dinner
Dish Type:
Entrée
Preparation
Reconstitute peppers. Drain water. In a blender, combine all the Al Pastor marinade ingredients and blend until smooth.
In a medium sauce pot, add 2 Tbsp. cooking oil and sauté rice for 5 minutes.
Add chicken stock and cook for 20 minutes over low heat.
To make cilantro puree: in a blender, combine ½ cup of water, cilantro and spinach and puree into a thick paste. Once the rice is cooked, stir in the cilantro puree.
Heat grill to 450° F.
Peel and slice pineapple into rings.
Take each pork chop and rub with Al Pastor marinade. (Better if you let sit overnight)
Place chops on grill and cook 6 minutes on each side or until cooked medium. Grill pineapple rings for 3 minutes each side.
On six plates, place pork chop and cilantro rice. Add grilled pineapple on top of each pork chop and garnish with a sprig of cilantro.
To order, contact your Smithfield Culinary sales representative, call 888-326-7526 or contact us for more information.
Email Recipe