Grilled Pork Chop with Sautéed Kale & Grilled Sweet Potatoes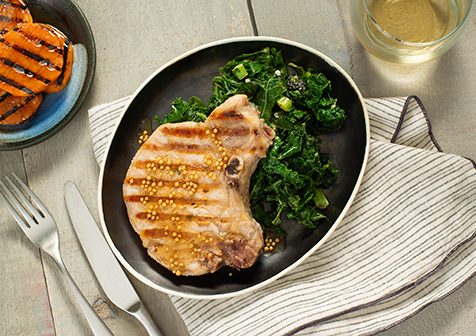 Ingredients
2 medium sweet potatoes
6 cups of kale, chopped
2 cups beef stock
2 Tbsp. ground mustard seeds
1 tsp. fresh rosemary, chopped
2 oz. maple syrup
1 tsp. garlic, chopped
3 Tbsp. olive oil
Details
Product:
Pork Chops
Meal Course:
Dinner
Dish Type:
Entrée
Preparation
Fill a medium sauce pot ¾ full of water and bring to a boil.
Add Sweet Potatoes and boil until soft (approx. 25 mins), then refrigerate until cool. Slice ¼ inch thick and set aside.
In a medium sauce pan, heat Beef Stock and reduce by half. Stir in mustard seed and rosemary. Set aside.
Heat grill to 400° F. Season pork chops with salt and pepper.
Grill at least 6 minutes per side until pork is medium and let rest.
Take sliced sweet potatoes and brush with a little olive oil and place on grill for 2 minutes each side.
In a medium sauce pan, heat olive oil. Add garlic and cook until golden. Add chopped kale and cook for 4-5 minutes or until tender.
Divide kale on 6 plates and top with grilled pork chop. Place grilled sweet potatoes around and drizzle with maple syrup. Add sauce to the pork chops and serve.
To order, contact your Smithfield Culinary sales representative, call 888-326-7526 or contact us for more information.
Email Recipe