Grilled Pork Chops with Farro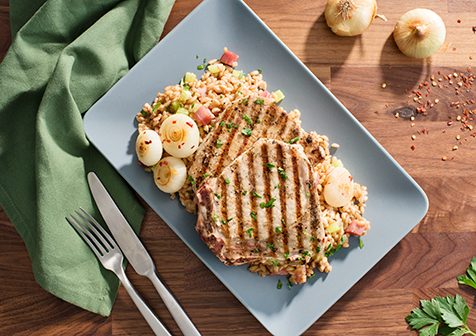 Ingredients
2- 6 oz Bone-In Pork Chops
3 cups farro, cooked
1 Tbsp canola oil
1/2 cup celery, diced
1/4 cup tasso ham, diced
1 cup cippollini onion agrodolce (recipe to follow)
2 Tbsp. pork gravy (recipe to follow)
1/8 cup parsley leaves
Cippollini Onion Agrodolce:
10 cippollini onions, peeled, roasted
3/4 cup sherry vinegar
3/4 cup sugar
1 pinch chili flakes
Pork Gravy:
1 Tbsp. butter
1 Tbsp. flour
1 1/2 cups pork stock (or chicken)
salt and pepper to taste
Details
Product:
Pork Chops
Meal Course:
Dinner, Lunch
Dish Type:
Entrée
Preparation
Season pork chops with salt and pepper and grill until the internal temperature reaches 145° F.
Heat canola oil in a sautee pan over medium heat. Add celery and cook for 3 minutes or until celery is slightly tender.
Add reserved pork gravy, tasso ham, and farro. Toss to combine and season to taste
To serve: Place farro/ham mixture on serving platter and top with pork chops. Add cippollini onions along with some of the agrodolce liquid and garnish with fresh parsley leaves
Cippollini Onion Agrodolce:
Combine vinegar, sugar, and chili flakes in a small sauce pot. Bring to a boil, reduce to a simmer, and cook until reduced by half. Mix in cooked onions and reserve.
Pork Gravy:
Melt butter over medium heat. Once melted, whisk in flour and reduce heat to low. Cook, stirring frequently until roux turns to a dark brown color. Whisk in stock and season with salt and pepper. Gravy should be a thin consistency
To order, contact your Smithfield Culinary sales representative, call 888-326-7526 or contact us for more information.
Email Recipe