Grilled Pork Medallion with Spiced Apple Walnut Salsa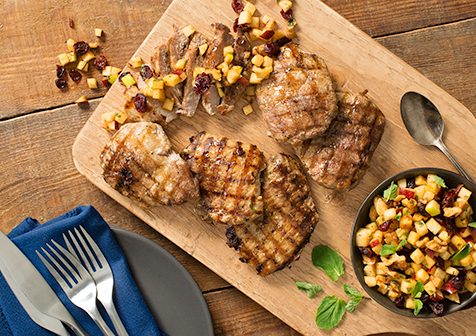 Ingredients
Marinade
1 tsp. granulated garlic
1 tsp. onion powder
¼ tsp. white pepper
1 Tbsp. salt
¼ cup salad oil
Mix together
Apple Salsa
2 red delicious apples (cored and diced)
1 granny smith apples (cored and diced)
¾ cup dried cherries
½ cup chopped roasted walnuts
¼ tsp. cayenne
Juice of one orange
1 tsp. molasses
1 Tbsp. chopped chives
1 Tbsp. chopped mint
1 tsp. granulated cinnamon
½ tsp. granulated nutmeg
½ tsp. granulated star anise
Grilled Pork Medallion
16 pieces of 4 oz. Pork Medallion
Marinade
Salt to taste
Fresh ground black pepper to taste
Details
Product:
Pork Medallion
Meal Course:
Dinner
Dish Type:
Entrée
Preparation
Marinade
Mix all ingredients together
Apple Salsa
Combine all ingredients and let marinate for 1 hr.
Grilled Pork Medallion
Marinate pork medallion for 1 hr. Season with salt and pepper. Grill over charcoal until internal temp is 145°F. Let rest for 2 minutes. Place on plate and top with ½ cup apple Salsa lightly heated up.
To order, contact your Smithfield Culinary sales representative, call 888-326-7526 or contact us for more information.
Email Recipe