Ham Steak with Red Eye Gravy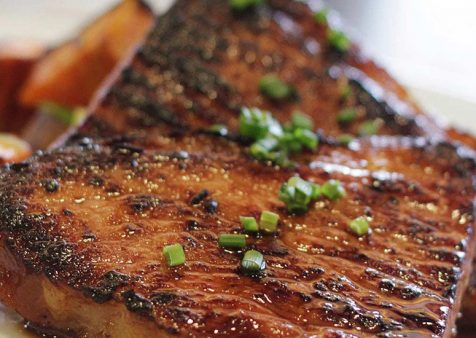 Ingredients
Red Eye Gravy
1 Tbsp. Bacon drippings
1 cup coffee
Add coffee to hot bacon drippings and bring to a boil. Season with salt and pepper.
Breakfast Sweet Potatoes
5 lbs sweet potatoes
2 bunches scallions
Salt and pepper
Canola or vegetable oil
Details
Product:
Bacon, Ham
Meal Course:
Dinner
Dish Type:
Entrée
Preparation
Sweet Potatoes
Cube sweet potatoes, season with oil, salt and pepper.
Roast in a 400° F. degree oven until golden brown and cooked through, 30-45 minutes.
Ham Steak
Slice 4 lbs of Ham into thin steaks.
Pan sear each ham steak and set aside.
Plating:
When ready to serve, garnish ham steak with potatoes, reheated in a sauté pan with 1 Tablespoon oil and fresh scallions, and red eye gravy.
To order, contact your Smithfield Culinary sales representative, call 888-326-7526 or contact us for more information.
Email Recipe