Italian Breakfast Sandwich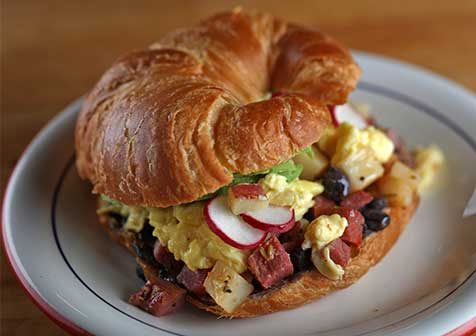 Ingredients
2 Tbsp. butter, divided
2 medium potatoes, diced
4 eggs, beaten
Salt and pepper, to taste
2 croissants
Avocado Aioli (recipe below)
2 radishes, sliced
Avocado Aioli
2 egg yolks
1 clove garlic
1 cup canola oil
2 oz. distilled white vinegar
1 ripe avocado
Salt, to taste
Details
Product:
Capicola
Meal Course:
Breakfast
Dish Type:
Entrée, Sandwich
Preparation
In a sauté pan, place 1 Tbsp. butter, and begin to melt over medium heat. Toss in capicola, and begin to render.
Once capicola has released some of its oils, add in potatoes and cook together for 3 minutes.
After 3 minutes, place a lid on pan and continue to cook potatoes until soft.
In a separate nonstick pan, melt 1 Tbsp. butter. Once butter is melted and pan is hot, add in beaten eggs, season with salt and pepper, and stir until eggs are cooked.
Slice croissant in half lengthwise. On bottom half, place capicola and potato mixture. Top with scrambled eggs. Add Avocado Aioli, sliced radishes, then top croissant, and serve.
For Avocado Aioli, in a food processor, place egg yolks and garlic, and begin to blend.Slowly pour in oil while machine is running. Once sauce is thick, add in vinegar and avocado, and continue to puree until smooth. Season with salt.
To order, contact your Smithfield Culinary sales representative, call 888-326-7526 or contact us for more information.
Email Recipe