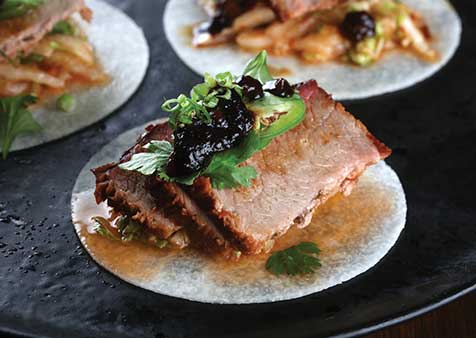 Ingredients
Kimchi:
3 cups napa cabbage, shredded
2 Tbsp sambal
1 tsp sesame oil
2 Tbsp rice wine vinegar
1/2 tsp salt
1" piece ginger, minced
white pepper, to taste
Brisket:
1 Tbsp sambal
2 Tbsp ketchup
2 Tbsp dark mushroom soy
1 date, pit removed, chopped
1 tsp sesame oil
Tacos:
1 jicama, peeled, sliced thinly
1 jalapeño, sliced thinly into rounds
2 green onions, sliced thinly
cilantro leaves, to taste
Details
Product:
Brisket
Meal Course:
Dinner, Lunch
Dish Type:
Appetizer, Entrée, Sandwich
Preparation
For Kimchi, combine all ingredients, and keep covered in refrigerator until ready to serve. (This can be made a few days in advance).
For Brisket, preheat oven to 325°F. Combine all Brisket ingredients except brisket to blender, and blend until well combined.
Place blended ingredients in small saucepan. Bring to boil, and lower to a simmer for a few minutes. Remove from heat and set aside.
Brush glaze on brisket, and place in oven. Bake until internal temp of 140°F, remove it from oven, and let it rest for 10 minutes. Slice brisket against the grain.
For Tacos, lay out Jicama "Tortilla" slices on plate. Add Kimchi, followed by slices of Brisket on top. Garnish each taco with jalapeños, green onions and cilantro.
To order, contact your Smithfield Culinary sales representative, call 888-326-7526 or contact us for more information.
Email Recipe