Maple-Bacon Waffle with Lingonberry Syrup & Orange-Pecan Butter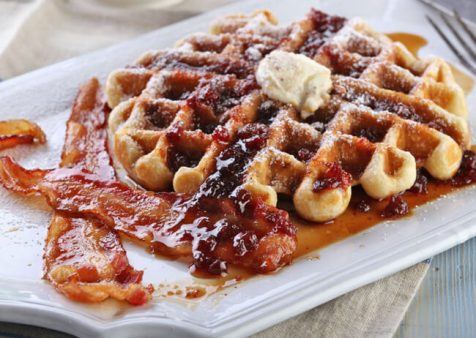 Ingredients
Maple syrup
2 cups all-purpose flour
2 Tbsp. sugar
2 Tbsp. baking powder
1 tsp. baking soda
¾ tsp. salt
2 cups buttermilk
1 stick butter
2 eggs
Nonstick spray
Lingonberry Syrup (recipe to follow)
4 small scoops Orange-Pecan Cutter (recipe to follow)
Lingonberry Syrup:
1½ cups maple syrup
½ cup lingonberries
Orange-Pecan Butter:
2 sticks butter, softened
½ cup pecans, chopped
1 orange, zest and squeeze of juice
Details
Bacon brands offered: Armour by Smithfield, Patrick Cudahy, John Morrell, Farmland, Smithfield Culinary Log Smoked Bacon
Product:
Bacon
Meal Course:
Breakfast
Dish Type:
Entrée
Preparation
Lay bacon slices on half-sheet tray. Drizzle with maple syrup. Place bacon in 375°F oven until done, flipping slices over once.
Chop up 4 slices. Set rest aside to serve with waffle.
In medium bowl, whisk together flour, sugar, baking powder, baking soda and salt; set aside.
In large bowl, whisk together buttermilk, 1 stick melted butter and eggs; add flour mixture, and mix just until batter is combined. Stir in chopped maple-bacon.
Heat waffle iron. Spray with nonstick spray. For each waffle, pour ¼ of batter on iron, leaving space around edges, and bake.
Serve waffles topped with Lingonberry Syrup and small scoop of Orange-Pecan Butter. Serve with maple-bacon slices.
Lingonberry Syrup:
In small saucepan, combine maple syrup and lingonberries.
Let simmer on low for 15 to 20 minutes.
Orange-Pecan Butter:
Set two sticks of butter out to soften and Chop pecans.
In mixer, add butter, pecans and orange zest and juice .
Whip until all ingredients are well combined.
To order, contact your Smithfield Culinary sales representative, call 888-326-7526 or contact us for more information.
Email Recipe