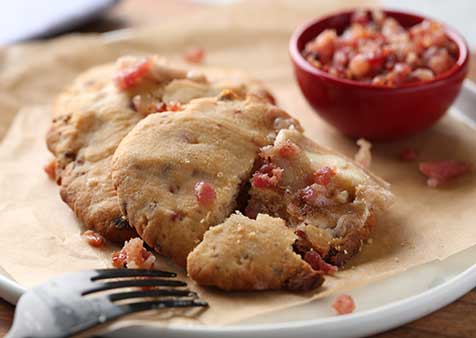 Ingredients
1/2 lb. Pancetta
4 cups Lily unbleached self-rising flour
8 oz. butter, unsalted, cold
8 oz. Crisco vegetable shortening
1.5 cups buttermilk
Cinnamon and Sugar Butter (recipe follows)
Cinnamon and Sugar Butter:
Makes 2 cups
1 cup white granulated sugar
2 Tbsp. ground cinnamon
2 sticks unsalted butter, room temperature
Details
Product:
Pancetta
Meal Course:
Breakfast, Dinner, Lunch
Dish Type:
Dessert, Side Dish
Preparation
Dice pancetta into small dice.
In sauté pan, render down Pancetta till crispy.
Remove from pan and reserve pancetta and fat in 2 different pans.
Preheat oven to 500°F.
Coat baking sheet with pan spray or line with parchment paper.
Put flour into food processor and turn on.
With processor going, cut in butter and shortening until crumbs are sizes of peas.
Add in reserved pancetta.
Add in buttermilk until it forms a ball of dough that leaves sides of machine.
Remove from machine and fold on floured work surface 2-3 times. Do not overmix knead.
Roll onto floured work surface to 3/4-inch thickness.
Cut, using 2-inch biscuit cutter or whatever size you would like.
Place onto sheet pan with room between and bake for 10 minutes or until golden brown.
After removing from oven, brush reserved fat over top of biscuits while they're still warm.
Once cooled, break open and top with Cinnamon and Sugar Butter.
Cinnamon and Sugar Butter:
Mix all together in bowl and let sit out at room temperature, until needed. (Can be refrigerated as well.)
To order, contact your Smithfield Culinary sales representative, call 888-326-7526 or contact us for more information.
Email Recipe