Pancetta-Wrapped Chicken Breast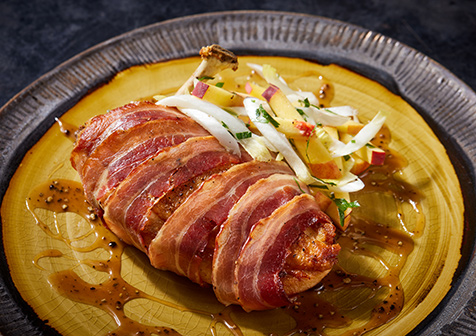 Ingredients
Pancetta-Wrapped Chicken Breast
1 lb Margherita Pancetta, sliced paper-thin

4 semi-boneless, skin-on chicken breasts, frenched

Salt and pepper, to taste

2 slightly underripe peaches, julienned

1 head Belgian endive, julienned

1 lemon, juiced

¼ cup extra virgin olive oil

Cracked Black Pepper Caramel Sauce (recipe follows)
Cracked Black Pepper Caramel Sauce
½ cup sugar

3 Tbsp butter

¼ cup heavy cream

½ cup chicken stock

½ Tbsp cracked black pepper or to taste

1 tsp kosher salt or to taste
Details
Product:
Pancetta
Meal Course:
Dinner, Lunch
Dish Type:
Entrée
Preparation
Pancetta-Wrapped Chicken Breast
Season chicken breasts with salt and pepper. Sear them skin-side down in heavy-bottomed saucepan until skin is light golden brown. Remove from heat, and let cool.

Wrap thin slices of pancetta around seared chicken breast, using care to overlap slices.

Place wrapped chicken on parchment-lined baking sheet, and bake at 350℉ or until the chicken's internal temperature reaches 165℉.

Combine fresh peaches, endive, lemon juice and olive oil. Season with salt and pepper.

Place cooked chicken onto serving dish, top with peach slaw and drizzle
with Cracked Black Pepper Caramel Sauce.
Cracked Black Pepper Caramel Sauce
Place sugar in heavy-bottomed sauce pot. Cook sugar over medium heat, until sugar clumps, melts and begins to turn amber-colored. Stir continually with rubber spatula.

Once amber color is achieved, add butter, and stir continually.

Once butter is incorporated, add heavy cream and chicken stock.
(The mixture will boil heavily, so use caution to prevent it from overflowing.)
Whisk mixture over high heat for about 1 minute or until a sauce-like
consistency is achieved.

Add cracked black pepper and salt.
To order, contact your Smithfield Culinary sales representative, call 888-326-7526 or contact us for more information.
Email Recipe