Peruvian Blackened Chicken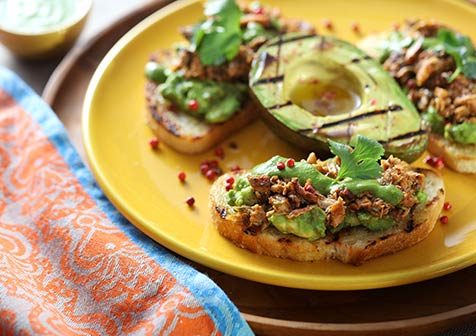 Ingredients
Blackened Chicken
¼ cup soy sauce
½ cup lime juice
10 garlic cloves
¼ cup fresh ginger
1 cup lager beer or dark beer
¼ cup extra virgin olive oil
¼ cup balsamic vinegar
¼ cup huacatay paste
¼ cup aji panca paste
3 Tbsp. toasted ground cumin
¼ cup dried oregano
3 Tbsp. kosher salt
3 Tbsp. ground pepper
1 tsp. cayenne pepper
5 lbs. Roasted and Seared Chicken
1 loaf thick-cut sourdough bread (10 pieces)
1 cup picked cilantro, for garnish
Avocado Green Chile Sauce
5 jalapeños, tops and seeds removed
1 cup mayonnaise
¼ cup grated Parmesan
3 cups cilantro, loosely packed
3 oz. lime juice
¼ cup huacatay paste
3 garlic cloves
¼ cup extra virgin olive oil
6 green onions, tops removed
5 avocados, seeds removed and grilled lightly
Details
Brands Offered: Farmland Smoke'NFast
Product:
Roasted & Seared Chicken
Meal Course:
Dinner
Dish Type:
Entrée
Preparation
To prepare Blackened Chicken, place all ingredients, except chicken, bread and cilantro, in food processor, and puree until smooth.
Put mixture into pan and reduce by half. Add chicken and simmer until heated through.
To prepare Avocado Green Chile Sauce, place all ingredients, except avocados, in food processor. Grill avocados until just marked, about 1 minute. Mix puree with grilled avocados.
For service, grill sourdough bread on both sides until golden brown. Evenly distribute Avocado Green Chile Sauce on each piece of toasted bread. Top toasted sourdough/avocado toast with Blackened Chicken Garnish with picked cilantro and serve.
To order, contact your Smithfield Culinary sales representative, call 888-326-7526 or contact us for more information.
Email Recipe